---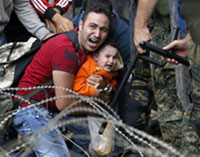 The UN refugee agency on Tuesday harshly criticised an EU-Turkey deal on curbing the influx of migrants to Greece, saying reception centres had become "detention facilities", and suspended some activities in the country.
"Under the new provisions, these sites have now become detention facilities", the UNHCR said in a statement.
"Accordingly, and in line with our policy on opposing mandatory detention, we have suspended some of our activities at all closed centres on the islands," it added.
The EU and Ankara struck a deal on Friday aiming to cut off the sea crossing from Turkey to the Greek islands that enabled 850,000 people to pour into Europe last year, many of them fleeing the brutal war in Syria. (AFP)