---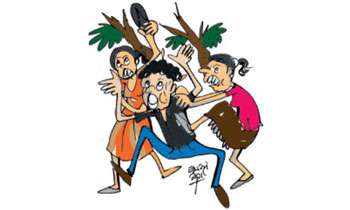 A youth who had been carrying on affairs with two women simultaneously ended up being taught a lesson for life when he was beaten up by his two lovers after they got to know about his two-timing ways.
The protagonist of this story, a youth from Polpithigama had been having a relationship with a girl in the same locality and had started another fling with a woman from another area.
The youth's first lover, who learnt about his meandering, had managed to find the location of the other woman and had decided to communicate with the latter to put an end to the man who was leading both of them on.
The first woman had arranged a casual meeting with the youth on a tank bund in the Madagalla area and had secretly asked the second woman to come to the spot in order to confront their target.
The youth, who arrived for his appointment never dreamed that his two-timing would come to an end in the manner it did. He got a nasty shock when the second woman he was seeing also arrived on the scene.
He was forced to face the wrath of both his lovers as he tried to flee and he needed the help of area residents to make a hasty getaway. (Sisira Kelegama – Moragollagama)