---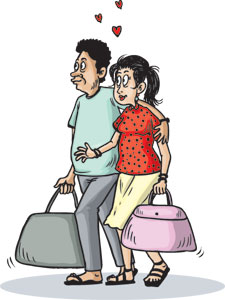 A 39-year-old mother, ignoring the wails of her three young daughters had walked away with her paramour of 31 years of age, Ambalantota Police said.
She had left the 59-year-old husband and three daughters of ages 22,19, and 16 as a result of a love affair she had developed with a young man of 31 years.
When the Ambalantota Police were investigating on a complaint received by them and calling all parties to the dispute, the mother had insisted that she wants to live with the new young lover.
The three daughters had vehemently protested at the behaviour of their mother, however the mother had been so adamant and left the police station with her lover.
The depressed husband who had watched the scene from a side had later signed the police complaint book and left the site. The police had advised the mother until such time a divorce is obtained to recognize her legal husband. (Sanath Gamage)