---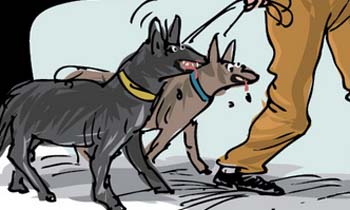 The Anuradhapura Police had taken two dogs into their care after two women, one who initially owned the dogs and the other who acted as the caretaker of the dogs got into a fight with regards to dogs' ownership.
A woman who was originally from Colombo and currently living in Anuradhapura, loved dogs, whom she found homes for. A few months ago she had given two of these dogs to be cared by another woman in 'Vijeyapura'. Recently, she had asked for the dogs back. However, the woman whom she gave the dogs over to look after claimed that she had spent Rs. 30,000 on the two dogs and refused to return them to their earlier owner. This had ended in the two women brawling over the ownership of the dogs, which was brought to an end by the police, who stepped in to restore law and order.
With the two sides unable to come to a compromise with regards to the ownership of the dogs with the woman from Vijeyapura even producing a veterinary card for the two dogs, the police decided to let the court decide who the dogs should go to.
The case will be heard in the Anuradhapura Magistrate's court.
Acting hq. Chief Inspector Prabath Gallage said that this was not the first time the woman who was given dogs to look after these dogs had lodged complaints against other people.(Upul Herath)