---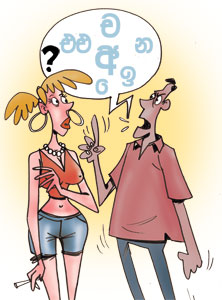 An individual heavily intoxicated had confronted a woman tourist and had attempted to teach her morals, and the woman not understanding the language had gifted the intruder with a cigarette, as reported from a tourist hotel in a coastal area near Galle.
There had been a wedding reception at this tourist hotel, and relatives of the newly married couple from several outstations had been there. Among the participants there had been a family from an interior village few kilometres away from Galle. The beach close to the hotel was a hive of activity, with many tourists strolling along in Bikinis and other bathing costumes.
A close relative from the interior village who had taken more of the spirits, could not remain quiet seeing the tourists movement, and started walking towards the sun bathing foreign woman determined to give a piece of his mind, confronted them and began scolding them in Sinhala and berating them for their skinny clothes and educating them on culture and morals.
One of the woman who had been smoking and failing to understand what the local man was telling, offered him a cigarette and also gave the lighter which she had in her hand.
The man who promised to give a good lesion on culture and morals was seen returning back to the hotel with a lighted cigarette and sending smoke into the air. The members of his family seeing him had made fun out of him, and not being able to meet them had slowly retired. (Kanchana Kumara Ariyadasa)