---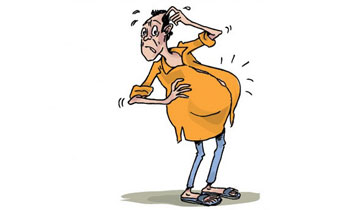 A woman who came to live in a rural area in the Southern province had begun a healthcare service centre for married women who are not fortunate to have children.
Those who came to her with the hope of becoming mothers have developed symptoms of pregnancy after taking the medicine she had given.
After coming to know about this witch-craft 'doctor' a wife who was worried about delayed pregnancy has gone without the knowledge of her husband to her and received the necessary medicine. She was also advised not to see doctors for any changes that take place in her body
When the husband saw his wife taking some drugs, he had questioned her about it. She had answered the drug was for knee pains.
The husband who was also suffering from a leg pain had asked for some medicine of his wife and gulped it.
He had continued to take these medicines for a couple of months.
After a few months both the wife and the husband had developed symptoms of pregnancy with enlarged abdomen.
Latter it was revealed that the so called witch-craft woman had given some substance to her patients that causes the enlargement of the abdomen. (Upasena Liyanagama)