---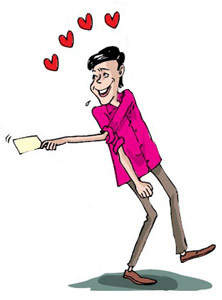 A mother who came in search of the whereabouts of a youth who had given his address to her young daughter, left her to be cared by the youth and returned home. It was reported from a village in the Western Province.
It was revealed that a group from a nearby town had set off on a pilgrimage and after travelling several hundred of miles from Colombo had stopped their vehicle at a wayside boutique for some quick purchases. A youth among the crowd had caught the attention of a pretty looking lass in the boutique assisting their parents.
It was 'love at first sight' for the youth who hurriedly wrote his address and stealthily passed it to the girl unnoticed by the others.
Next day, the touring party returned home. After a few days, the girl with her mother who had the young lad's address paid a surprise call at his house. The youth, after having seen her, was shocked and was unable to recollect what all that had taken place and became embarrassed as the secret was now known to everyone, when the girl said that she came to see him following the address that was given to her the other day. The girl's mother explained everything and by the time the episode drew closer, it was too late for the visitors to return home. As they had no alternative, stayed with the youth's family.
The following day the youth was bewildered by another surprise when the girl's mother told him to take care of her daughter and left her with him and went away.
The youth's mother admonished her son and said if he had given addresses, have no alternatives but to marry her. The youth could not refuse his mother.
Neither the girl's mother nor her family ever attended their marriage. (Pushpakumara Mallawarachchi)