---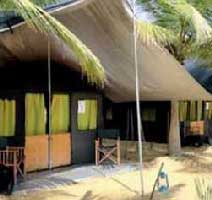 Big Game Camps & Lodges now offer a unique way to experience Sri Lanka's wilderness. The pioneers of tented camp safaris, Eco Team have once again set precedent in Sri Lanka's tourism sector with their innovative new concept of 'mobile hotels'. In a record breaking move, Big Game Camps & Lodges – a venture of Eco Team (Pvt) Ltd set up 'camp' for a total of 270 tourists on the breathtaking beach of Alankuda from the 7th to 10th of April. Accommodating the first, and the biggest ever incentive group to stay in tented camps anywhere in Sri Lanka they provided a truly memorable, one of a kind experience for their guests from France. This was indeed the first time in history that a group of such immense scale have stayed at Kalpitiya. An area fast becoming a sought after destination, the success of this event certainly opens new horizons for furthering tourism opportunities in this region.

Speaking of this exciting new possibility for promoting tourism in Sri Lanka, Anuruddha Bandara - the founder of Eco Team states "... the era of planning tours to where the hotels are is now over. We have the capacity to create a 75 room 'mobile hotel' anywhere in the country. We can accommodate up to 150 persons or more, together at one time, at any location in Sri Lanka, in luxury tents with 'rooms' that have a bedroom, a living area, attached toilet with hot and cold water – in short, all the facilities and comforts you expect from a hotel room, but one that can go anywhere you want it to." This novel idea opens up a world of opportunities to broaden the horizons of tourism in our country, especially in meeting the demands of travellers who are constantly seeking a different kind of holiday experience.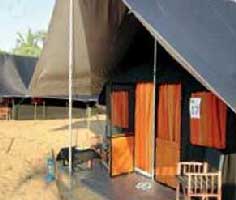 Giving guests the best of both worlds, these 'mobile hotels' can be set up at the heart of wilderness – on a location of their choosing right across Sri Lanka. From a remote beach on the East Coast, arid scrub jungle in the North, an isolated reservoir in the central plains to lush forests in the South; the choice is as vast as our island's diversity. If however, guests wish to forego the option of the wildly unusual, camps can also be set up on the perimeters of Wilpattu, Yala and Udawalawe National Parks or any other wildlife park or reserve requested by the guests.

For those who wish for the ultimate experience of camping inside a national park or on another wilderness location in style and comfort, Mahoora Luxury Tented Safari Camps – Sri Lanka's award winning pioneer and a successful venture of Eco Team – provides the absolute dream of enjoying the best of nature, with the best of luxury too.

As with all of Eco Team's ventures, Big Game Camps & Lodges too offer 100% environment friendly accommodation; operating on the 'pack in and pack out' practice where the tents are put up just prior to guest arrival and moved out after departure to minimize the impact on nature.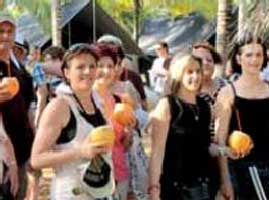 Big Game Camps & Lodges are owned and operated by Eco Team (Pvt) Ltd – who created the tented safari concept in Sri Lanka in 1998 and have since made their mark as an innovative Camping Service Provider committed to bring their guests a novel holiday which balances the excitement of the wilds with comfort and style. Eco Team offers a full portfolio ranging from premium mobile tented safaris to outdoor adventure packages that includes cycling, trekking, canoeing and more. With a wealth of knowledge on Sri Lanka's wilderness gathered over many seasons of operating adventure and nature excursions, they have an inherent expertise and an intimate understanding of the environment and the attractions of the reserves which enable them to offer the very best of nature holidays and a memorable experience for their guests.

The tented camps and 'mobile hotel' concept offered by Eco Team is also affordable, and offers Sri Lankans as well as tourists a chance to enjoy and experience the wonders of our country's wilderness in a unique and memorable way.

---
Add comment

Comments will be edited (grammar, spelling and slang) and authorized at the discretion of Daily Mirror online. The website also has the right not to publish selected comments.

---