---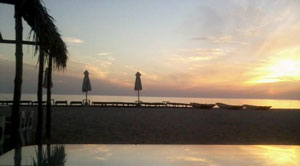 Checking a best dramatic landscape with a ring of white sand, to spend your holiday? Out of many spectacular and beautiful beaches around the world, Pasikuda Beach is an attractive beach in Asia, located in Batticaloa, Sri Lanka. Not only the picturesque sights, but Pasikuda Beach is a perfect family-friendly sandy spot also with wide sand, calm waves and easily accessible amenities. So, for the travelers who are seeking a beach which has picturesque views and is family-friendly beach, Pasikuda Beach will be idylls to enjoy.
Beautiful Pasikuda lies between Kalkudah and Indian Ocean, with thirty five kilometers from Batticaloa town in Eastern Province of Sri Lanka. With shallow and crystal clear water, golden bay, coral reefs, palm trees and white sand and how great this nature creation makes pleasure to spend the leisure time freely, of not having to look both ways to cross the street before feeling the sand between the toes of yours! One of significant thing of this Pasikuda Beach is that it let beach lovers to walk 50m out to sea and parents can let their kid to enjoy at this beach also. And throughout the year, the beach is crowded by local as well as foreign beach lovers due to it's a nest place to have many water activities such as kite surfing, boogie boarding to surfing, snorkeling and sailing across in a canoe, while it is able to have a safe environment for swimming. As Pasikuda Beach is with the attraction of surfing the waves, pulling off cool systems, jumping high off the wave and spinning in the air, during the seasons, it is a popular beach of water surfing sportsmen and women as well as it is an ideal destination for the beginners in water surfing too.
If you're looking for have your next warm-weather escape, this is an unspoiled beach with many unobstructed views, Pasikuda Beach is the perfect destination to experience sun bath and also it is a best holiday venue to have diving to surfing, opt of abundant displays of marine life, to walk along the long shallow coastline and enjoy the pristine sandbank.
Therefore, to return home with "got-there-first bragging rights", add Pasikuda Beach for your Sri Lanka's journey! And, not only this captivating destination, but there are many other attractions can be discovered in Batticaloa also, including Kalkudah Beach and Kallady Beach. And Nilaveli Beach is also one of most popular Beaches in Eastern Province Sri Lanka. All these wonders in eastern Province can be enjoyed while relaxing at best and affordable Hotels & Accommodations in Batticaloa, out of endless selection of Hotels in Sri Lanka which are culturally and architecturally distinctive.