---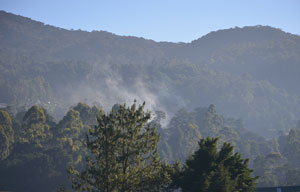 The feeling you get as you reach into Pidurutalagala mountain summit is that this is the best nature creation in Sri Lanka which allows you to experience the breath-stealing views. The name itself "Pidurutalagala" (meaning is "straw laden rock") implies how it riches with green nature allure.
Pidurutalagala or Mount Pedro is located 7.5km from Nuwara Eliya town, which is the highest peak in Sri Lanka. While Nuwara Eliya being a mountain valley consists of a plateau, Pidurutalagala mountain peak has 2524m height. It is not just a dramatic mountain, it is also a forest reserve of the topmost elevation which riches with bio diversity too. There are many endemic as well as some rare plants, animals, birds and flowers can be found here and some specific plants which are grown in Himalayas of India also can be discovered in this highland. Appearing to be that of gnarled trunks with many divided branches with lichens and moss clinging is the significant characteristic that Pidurutalagala differs from other forest reserves. At early days, there had been only few modes to get to this peak (by walking and by horse riding), but today, it is able to reach the peak by vehicles after obtaining the permission. But trekking is the best way to enjoy Pidurutalagala Mountain summit reaching.
And unlike other highland peaks, it has a flattened mountain peak which is covered whole surface with pale green patna. Pidurutalagala Mountain is an impressive mountain that gifts magnificent views as well as the peak of this mountain has many local broadcasting stations' towers including the Sri Lanka Rupavahini Corporation. And it is a perfect destination to enjoy trekking; especially through jungles, streams and heavy mist while enjoying breath-stealing views.
Therefore, travelers those who wish to lost in greenery and smoky world, Pidurutalagala Mountain in Sri Lanka is the best destination. In addition to this highland, there are many noteworthy things to experience in Nuwara Eliya which gives opportunities to exposure to various bio diversity places especially with waterfalls, gardens, mountains and rocks. Worlds End, Kirigalpoththa and Thotupola Kanda are some of popular mountains there. And it has wide range of eco-friendly affordable Hotels in Nuwara Eliya, out of endless selection of Hotels in Sri Lanka. So, it's time to have a trekking adventure and to get in touch with nature in Pidurutalagala, the highest peak in Sri Lanka, while enjoying other heritages in the country.