---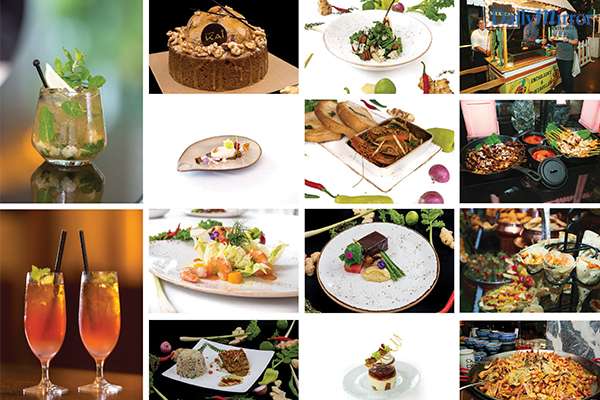 From the goodness of ginger, the seasonal ingredient of the month to the culinary carnival, a journey through the USA and Retro Nights at the Blue, Hilton Colombo promises diners and party revelers a hype of activity this November.
As part of #EatDrinkHilton, the seasonal ingredient of November is Ginger. Special ginger infused recipes have been perfected by Executive Chef Robert Mujagic and his talented team of chefs to give diners a treat at Graze Kitchen, Curry Leaf, L.A.B and Café Kai. From appetizers to mains, desserts, beverages and a range of cakes and homemade chocolates will be available throughout the month. A few of the delightful dishes on the menu would be the black pepper and ginger flavoured lagoon prawn dry curry with ginger bread at the Curry Leaf, champagne and ginger poached pears, blue cheese crumbles on arugula salad with beet balsamic drizzle at Graze Kitchen and amongst the interesting line up cakes and beverages at Café Kai one must try the ginger parfait with honey roast pear compote and butterscotch sauce. There are special cocktails and mocktail mixers with ginger and dessert at L.A.B giving you more options to enjoy.
"Food and beverage are a crucial part of Hilton's operations in South East Asia and around the world, as we continue to deliver exceptional experiences to our guests and local community. Across every destination what makes us stand out amongst the industry, especially to locals residing in each city, is our remarkable food and beverage offerings and exceptional service," says Paul Hutton, vice president, operations, South East Asia, Hilton.
"Through #EatDrinkHilton, we hope to further inspire creative excellence among our chefs in South East Asia and at the same time encourage our guests and customers to appreciate the rich culinary heritage in the region through our chefs' creations which are inspired by traditional cooking methods and flavors," Hutton added.
In line with rapidly changing food trends, with today's "foodies" becoming increasingly social media savvy, #EatDrinkHilton encourages Team Members, guests and diners to share their #EatDrinkHilton experience across social media channels, to inspire conversation and raise awareness of the campaign. From now till 30 November 2018, guests and diners who share their experiences stand a chance to win a 2-night stay at any participating hotel in South East Asia. To find out more about the campaign, past creations by chefs, and upcoming ingredients of the month, follow #EatDrinkHilton on Instagram and Twitter today.
Moving on from ginger infusions, the popular CULINARY CARNIVAL will take place yet again on the 14th of November at the Graze Kitchen and Curry Leaf. Enjoy street food from around the world by starting your journey at either of the two restaurants and ending up in the other all at one price; Rs 2888nett per person.
That's not all, journey through the States from the 16th to 20th November at Graze Kitchen; bringing a little bit of the USA right home to you with a dedicated American themed pod at the international dinner buffet. Price Rs 3,888nett which includes the entire buffet from 7pm to 10.30pm.
Finally, RETRO NIGHTS will hit the BLUE once again on the 23rd and 24th of November. Dance your cares away and enjoy a night of nostalgia with hits from the 80s to 2010 played by legendary DJs Kapila, Naushad, Bonnie, Pradeep and Thoshan. Tickets are Rs 2000 and Rs 1000 redeemable for food and beverage and Ladies walk-in FREE!
For reservations and more information, please call the F&B Reservation Desk on 2492492 and log into www.hiltoncolombo1.com fb/HiltonColombo.