---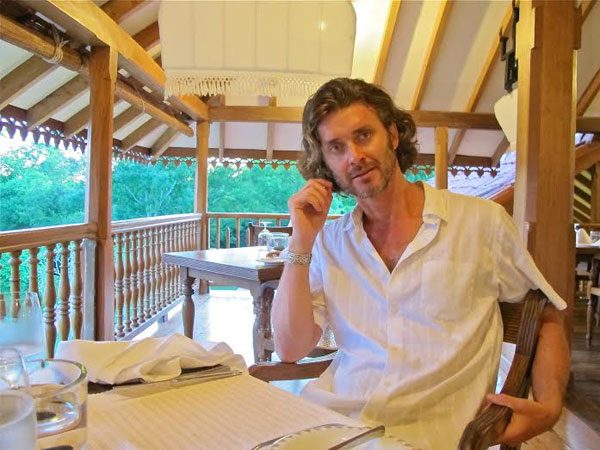 On a six-thousand-kilometre trek across the roof of the world, you need good tea to sustain you. That's how author and explorer Jeff Fuchs gained the special knowledge that makes him one of today's leading tea enthusiasts and advocates. His treks across the remote mountains of Tibet and south western China, which he describes in his book, The Ancient Tea Horse Road, brought him into contact with some of the world's most ancient tea-drinking cultures, adding to and refining the expertise he's gained from a lifelong love affair with tea.
To a man who's mad about tea, Sri Lanka sends out an irresistible summons. This year, Jeff was finally able to answer that call, finding time to make a ten-day tour of the island. His itinerary included a brief visit to Ulagalla, Uga Escapes' luxurious vacation resort hidden away in rural tranquillity amidst the far-flung monuments of Sri Lanka's 'cultural triangle'. Jeff's visit to Ulagalla wasn't especially about tea: the resort made a perfect base camp for his exploration of what he calls 'a region of massive value in Sri Lanka's vivid history.' A tea lover is automatically an herbalist, and Jeff was fascinated by this 'bastion of Ayurvedic medicinal herbs' as well as by the relics of Lanka's ancient past.
Elaboration about his experience at Ulaglla Jeff Fuchs"I love the fact that Ulagalla is located in a zone of farmland and genuine is land life, replied. One can watch as elephants and many rare animals and birds wander the surrounding area at will. The property benefits from this very intimate relationship with its surroundings. One doesn't feel at all removed from the land and life around. In fact, it's very easy to drift away and feel one is becoming part of it all."
This sense of integration with the locality, that union with the 'spirit of place', isn't confined to animals and the natural world. 'Our guide at Ulagalla,a local resident, was full of soft pride for his home and the region,' said Jeff, adding that the staff at Ulagalla made sure that his party felt well provided for and adding that they seemed immensely proud of the property. 'They were wonderfully personal, and while their manners were formal in the best tradition of Asian courtesy, they became like friends to us in very short time.'

Visitors to Ulagalla enjoy a more intimate experience with the region and local culture, with activities such as a day-visit to a nearby village, where life is still lived to traditional rhythms. 'I highly recommend the excursion,' says Jeff, 'who enjoyed Ulagalla's famous beli mal herbal tea at a little village home. 'It offered an authentic peek into rural Sri Lankan life, and illustrates both how local residents can benefit from Ulagalla and also an important element of reality as to how people live, eat, and relate to the land and each other.'

Accustomed as he is to the hardships of exploration in the world's remotest corners, Jeff was only too happy to enjoy the creature comforts of Ulagalla. 'Our suite was impeccable, with immensely large windows and a friendly, welcoming atmosphere,' he said. 'Through those huge windows, we were able to observe the natural world waking up around us.' The experience was well complemented by a typical Ulagalla breakfast. 'Outrageously good,' was his verdict.'The scrambled eggs seemed to have been created by an egg deity.' 'The welcoming bell ceremony upon arrival, remains in my memory as one of the high points of my journey through Sri Lanka.'
About Ulagalla
Ulagalla is a luxury resort in Sri Lanka and is the flagship property of Uga Escapes. Its centrepiece is a 150-year-old mansion, formerly the ancestral home of an aristocratic local family. Twenty private villas dot the 58-acre grounds, which teem with wild birds and animals have been selectively planted with local trees and shrubs to offer a combination of idyllic views and total privacy. Environmental sustainability is a priority at Ulagalla, a member of the Small Luxury Hotels of the World group; the LEEDS-certified property has its own solar farm, generating half of its own energy requirements, and grows much of its own produce. This combination of luxurious, sustainable beauty, inside and out, makes Ulagalla one of the finest boutique hotels in Sri Lanka.
MrFuchs's itinerary was designed by SriLankaStyle in partnership with Dilmah Tea.