---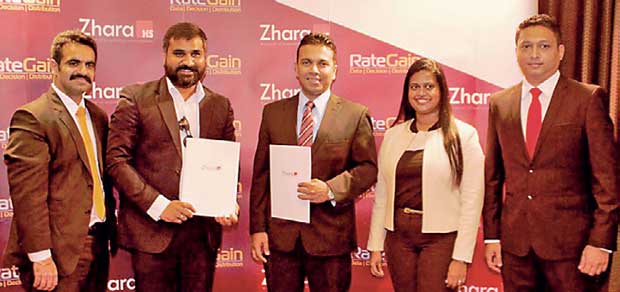 From L: Kunwardeep Singh, (RateGain's Manager, Customer Success), Ankur Yadav (RateGain's Manager Sales - Indonesia, Sri Lanka, Maldives, China, Taiwan), Changa Gunawardane (CFO of IT Group at JKH), Uthpala Kumara (AVP, Head of Products at JKCS) and Xenos Wahid (Head of Sales Hospitality Solutions at JKCS)
JKCS' award-winning hotel software Zhara Hotel System, recently entered into a strategic alliance with RateGain - a leader in hospitality and travel technology solutions worldwide.
Together, they have created the ultimate 'one-stop-shop' masterpiece software for a hotel. It covers all activities of a hotel from receiving a booking to the time the guest checks out, while creating multiple channels to generate more revenue.
JKCS Zhara team and RateGain announced the partnership on 15th of November at a joint press conference held at Ozo Colombo. Many of Zhara's Sri Lankan hotel customers were present at the event. Kunwardeep Singh, (Manager, Customer Success) and Ankur Yadav (Manager Sales - Indonesia, Sri Lanka, Maldives, China, Taiwan) represented RateGain while the Zhara team was headed by Changa Gunawardane (CFO of IT Group at JKH), Uthpala Kumara (AVP, Head of Products at JKCS) and Xenos Wahid (Head of Sales Hospitality Solutions at JKCS).
Expressing his views at the occasion, Tanmaya Das, (CFO, RateGain) said, "We are very pleased to announce this partnership. RateGain and John Keells Computer Services are joining hands to bring forward the right strategic partnership to revolutionize the hospitality industry. Both partners together will bring the complete hotel management system in a single box and offer unmatched value to hotels." Uthpala from JKCS added, "It is a great step for Zhara and we are thrilled to be able to provide our clients with a 360 degree solution as a result of this partnership. We strongly believe that now is the time the industry must radically transform. The focus must be on digitization and monitizing every service opportunity. In order to do this, it is vital for them to be equipped with the right Intel and tools to take care of operations and revenue optimization. This is exactly what our alliance is all about – easier operations and better cash flow".
Zhara's hotel process automation prowess coupled with RatGain's expertise in hotel revenue management will now deliver the full spectrum of accommodation service providers in reducing cost, enhancing revenue and ensuring smooth and efficient operations.