---
The world's second largest passenger vessel, MV Genting Dream, a luxury cruise liner, docked at Colombo Port on October 31 on a tour from Mumbai to Singapore during her first visit in Asia. An exclusive celebration at the port was held regarding the arrival of this beautiful passenger ship.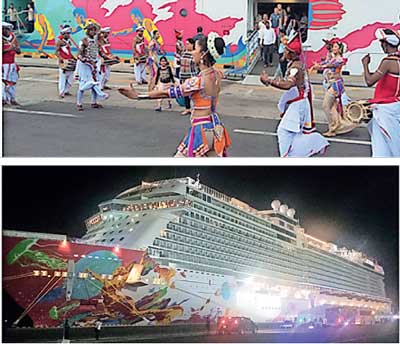 All the passengers who arrived from the cruise liner were welcomed by a cultural dance troupe with drummers, adding glamour and colour to the occasion. A mobile tourist information counter was also set up in the marquee at the East Container Terminal by Sri Lanka Tourism to inform and educate the passengers about the main tourist attractions of the country.
During her visit to Colombo from Mumbai, the cruise liner had transported 2500 passengers from various countries. From Colombo it sailed to Singapore with 1500 passengers, including locals as a specialty. This is the first time ever to grant on board entry clearance for such a large crowd in Sri Lanka who were disembarked at the Colombo Port, as all other passenger vessels that call Colombo have only transit passengers, who only do day tours.
Hong Kong originated Genting Dream, which is designed for the Asian cruise market, which has a length of 335 meters and a width of 40 meters. It has a maximum speed of 23 knots. Genting Dream can carry over 3400 passengers and consists of 1700 rooms and 142 royal suites. The luxury cruise also contains 35 restaurants and in-house bars which offer dining experiences from all the regional cuisines of China as well international favourites such as Japanese, South East Asian, Italian and more.
The ship will conclude its tour by sailing to Hong Kong and it will anchor at Guangzhou (Nansha).
Marine tourism industry analysts believe that the arrival of vessels such as Genting Dream will lead to positive results in promoting the main tourist attractions of the country, as well as key locations of Colombo.
Sri Lanka is known as a destination that has natural ports such as Trincomalee, which is indeed a boost for cruise tourism. It has expanded up to establishing ports such as Hambantota and also the Port City. The shipping companies will also have a good investment opportunity by bringing their vessels to Sri Lanka. At least 60 vessels are scheduled to arrive by the end of 2016.
In this regard, Sri Lanka expects more passengers to arrive through these cruise liners and make Sri Lanka a major tourist destination. Sri Lanka Tourism, by supporting cruise tourism expects to facilitate Sri Lanka from promoting from their end, by creating awareness about the natural resources and local products.
The importance of Sri Lanka as a key stop by for passenger vessels was further clarified by holding the first-ever Colombo International Maritime Conference (CIMC), at Galadari Hotel Colombo.
The Sri Lanka Tourism Promotion Bureau together with the Sri Lanka Ports Development Authority will be participating in the Sea Trade Cruise Global in March 2017, in the USA, which is the largest cruise event happening there.