---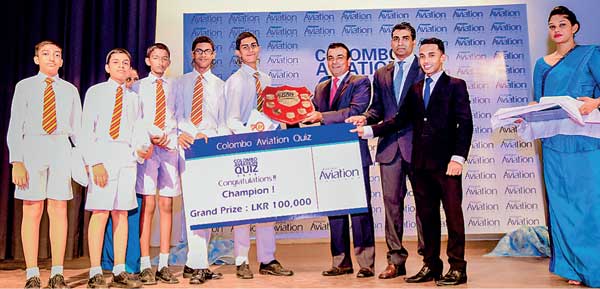 Ananda College Colombo won the inaugural Colombo Aviation Quiz 2016 from among 20 leading government schools and international schools in the Colombo district that contested the country's first ever quiz on the global aviation industry, organized by SriLankan Aviation College (SLAC).
D.S. Senanayake College emerged 1st runner up with 37 points to Ananda's 45, while Royal College Colombo was 2nd runner up with 35 points, at the competition conducted at the Methodist College premises early this month.

The event presented students with a valuable opportunity to enhance their knowledge of the vast history and contemporary developments in the global aviation industry, and also to meet and network with students of other schools with
similar interests.

SLAC, the country's premier aviation industry training institution which is the training arm of SriLankan Airlines, intends to conduct similar district level quiz programmes in several other districts, and to take next year's competition to an international level by opening it out to the entire SAARC region. SLAC has provided assistance to schools across the country to start up aviation clubs for the benefit of students with an interest
in aviation.

The competition comprised of five rounds in which the five-member teams were tested on different aspects of flight over a history spanning more than 100 years, starting from era of the Wright Brothers.

The winning team from Ananda College won an impressive shield and model aircraft, certificates and sponsorship worth Rs.100,000 for any school event related to aviation. The runner-up team from D.S. Senanayake College received a trophy, certificates and souvenirs. All participating teams received special certificates and souvenirs and two slots at SLAC's Aviation Education Camp.