---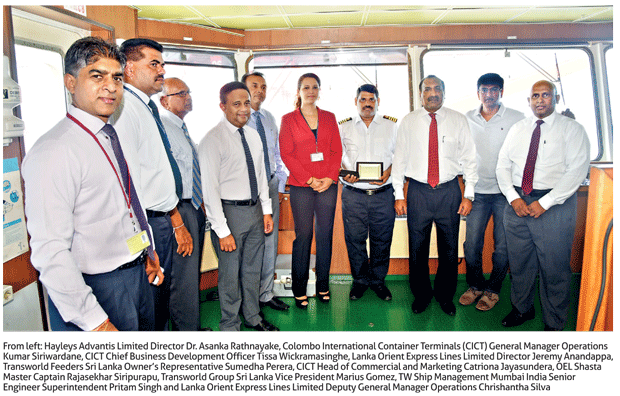 Dubai-based Transworld Feeders ceremonially kicked off its newest Feeder service on the Colombo-Chittagong sector with the 1,684 TEU Mv. 'OEL Shasta' at the Colombo International Container Terminals (CICT) of the Port of Colombo recently.

Mv.OEL Shasta was the 22nd acquisition of the Transworld group and would be deployed on the Colombo-Chittagong trade lane. The company plans to deploy additional vessels in the near future in order to provide comprehensive coverage to customers on this service.

This new feeder service, named as Bangladesh Sri Lanka (BSL) service, is set to help the route more Chittagong volumes through the Port of Colombo, which are currently moving via ports in Singapore and Malaysia, thereby boosting Colombo's status as a key maritime hub in the region.

CICT Chief Business Development Officer Tissa Wickramasinghe, CICT Head of Commercial and Marketing Catriona Jayasundera, Transworld Group Sri Lanka Vice President Marius Gomez, Transworld Feeders Sri Lanka Owner's Representative Sumedha Perera, Hayleys Advantis Ltd Director Asanka Ratnayake and Orient Express Lines Ltd Director Lanka Jeremy Anandappa were present onboard OEL Shasta on the occasion.

With the operation of its own tonnage, Transworld Feeders will have the flexibility and leverage to take personal care of its customers' requirements and expect to enhance the movement of transshipment volumes through the Port of Colombo, thus creating greater value for all its stakeholders.

Transworld Group of Companies, established in 1977 and commencing operations as a container feeder operator, has today expanded its operations to be recognized as a multi-faceted shipping and logistics conglomerate.

The company's operations include ship owning (container and bulk carriers), feedering, NVOCC, logistics, freight forwarding and supply chain management, ship management and shipping agencies. The Transworld group is represented in Sri Lanka through Lanka Orient Express Lines Limited.