---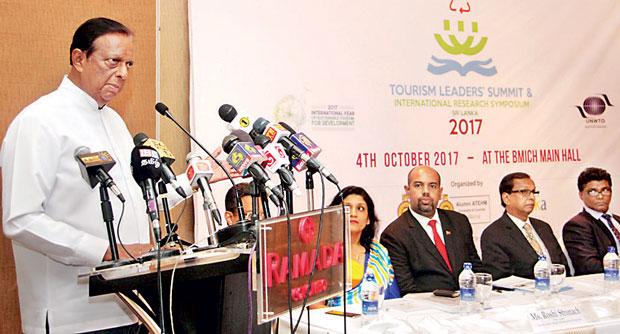 The third Tourism Leaders Summit and International Tourism Research Symposium will be held this October in an effort to continue to improve the strategic direction of Sri Lanka's
tourism industry.

"The Colombo University is attempting to address the need for strategic thinkers and academics required for the tourism industry. This will make the tourism industry more sustainable," Tourism Development and Christian Affairs Minister John Amaratunga said.

He was speaking at a media briefing held to launch Tourism Leaders' Summit and International Tourism Research Symposium 2017.

The government's Tourism Strategic Plan 2017-2020 has highlighted a gap in tourism research in Sri Lanka.

The event, to be held on October 3 and 4, at the BMICH, is organised by the Alumni Association of the Tourism Economics and Hospitality Management of the Colombo University, Economics Department of Colombo University and Tourism Development and Christian

Affairs Ministry. The month leading up to the event will feature a number of networking and awareness raising activities.According to the event organisers, this years' summit will focus on the four areas of critiquing the government's Sri Lanka Tourism Vision 2025, role of diplomatic mission and international organisations for Sri Lanka Tourism, global best practices for sustainable tourism in Sri Lanka and the implementation of key driving forces for future of Sri Lanka Tourism—2020.

Academics will present research papers on inclusive and sustainable economic growth, social inclusiveness, employment and poverty reduction, resource efficiency, environmental protection and climate change, cultural values, diversity and heritage and mutual understanding, peace and security, at the international
research symposium.

Sixteen international speakers will grace the event, while 800 out of 1,500 expected participants have registered to attend the event, the
organisers said.