---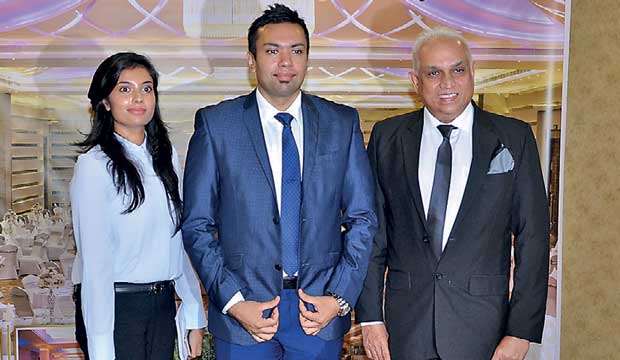 From left: Finance and Administration Director Hansanie Wijekoon, Managing Director Chanuka Wijekoon and General Manager Rohan Fernando
Pic by Nisal Baduge
The Golden Crown Hotel, a super luxury 5-star property located on 2 acres of beautifully landscaped gardens in Kandy and designed by renowned architect Dr.Upendra Rajapakse, will shortly open for the festive season.

Owned by The Golden Crown Hotel Pvt. Ltd., which is a subsidiary of Serene Holdings, which already operate Serene Grand Hotel in Kandy, Serene Grand Villa in Kandy, Serene Kings Villa in Nuwara Eliya, Serene Villa in Nuwara Eliya and the Tea Village in Nuwara Eliya, which is currently under construction, The Golden Crown indeed promises to be the 'jewel in Kandy's crown'.

Chairman, The Golden Crown Hotel Pvt. Ltd Sriyananda Wijekoon said, "The Golden Crown Hotel differentiates from other hotels in Kandy as we offer an extensive range of deluxe accommodation as well as banqueting facilities that can cater to over 2000 persons. We have a helipad facility as well, so it is evident that The Golden Crown effortlessly combines traditional comfort with modern facilities and our own hallmark attention to detail, while a striking feature on entering the Hotel is the spectacle of a fully automated, colour changing, dancing water fountain that greets you!"

The Golden Crown Hotel is set amidst verdant paddy fields, surrounded by lush greenery and is a sanctuary to those seeking peace and luxury. 90 Rooms including 72 Deluxe Rooms, 10 Junior Suites, 6 Premium Suites, a Crown Suite and a Presidential Suite complete with a private elevator for both the Presidential and Crown suites, comprise the Hotel's accommodation.

Veteran hospitality industry expert Roshan Fernando who has been appointed General Manager, will head the team at The Golden Crown. With almost 40 years in the hospitality sector under his belt, Fernando will incorporate his strong leadership skills and prowess as a manager to ensure that The Golden Crown stays true to its name. The veteran hotelier has made his mark in South East Asia and proved his mettle as one of the finest hospitality industry personnel produced by Sri Lanka!

Addressing a media briefing, The Golden Crown Managing Director, Chanuka Wijekoon explained the theme behind the name, "The Golden Crown is a marvel of a structure capturing the proud unique Kandyan history in a modern contemporary setting. Every feature of the hotel has been well thought through and tastefully designed to provide the guest a memorable experience." The Golden Crown Hotel is a special project to Chanuka as it is designed and constructed according to his wishes and under his watchful eye. Director Finance & Administration, Hansani Wijekoon said that the investment on The Golden Crown exceeded US$ 15 million and that their Board of Directors felt the investment was more than worth it as they foresaw tremendous potential for tourism in Sri Lanka.

Diners are spoiled for choice with the array of restaurants and bars that The Golden Crown has on offer. The Brix (175 seater) serves an array of local, South Asian and international cuisines, while a combination of local, South Asian and international breakfast, lunch and dinner buffets are also available. The Long Bar in an Irish pub atmosphere serves snacks, salads, soups, grilled items and tasty titbits, as well as desserts, while Treats, the Coffee Shop offers a fusion of Continental and Asian influenced +'grab-n-go' foods and variety of freshly brewed coffees. The Infinity pool swim-up bar serves informal poolside lunch menus with salads, sandwiches, pizzas, and refreshing cold desserts, and the Lavo (175 pax capacity) situated on the topmost floor is an upscale and chic night time venue. Lavo is also available for group dining, parties, cocktails, corporate functions, etc. "Our 3 banquet halls with a combined capacity of over 2000 persons and 36,000 different shades of fully animated lighting systems to match any theme/color, is unmatched," said Managing Director, Chanuka Wijekoon. The Windsor Ballroom (500 persons), Crown Court (500 persons), and Grand Ballroom (1200 persons) which is one of the largest pillar-less halls in Sri Lanka, are guaranteed to cater to the most exacting of wedding / conference organizers.

The Hotel's fitness centre, sauna and spa are state of the art, while an infinity swimming pool is set on the 2nd floor with a picturesque view where the guest can relax and bask in the tropical sun. All rooms are tastefully designed and include flat screen TVs with IPTV facility, while all categories of suites have Jacuzzis, rain showers, and panoramic views. The Presidential and Crown suites both have their private elevators and are so luxurious as to befit royalty!

The Golden Crown, living upto it's name, promises a memorable experience, while its banqueting facilities are guaranteed to raise the bar vis a vis conferences and weddings.

The Golden Crown board of directors are: Chairman Sriyananda Wijekoon, Managing Director Chanuka Wijekoon, Director Chamali Wijekoon, Director Finance and Administration Hansani Wijekoon.