---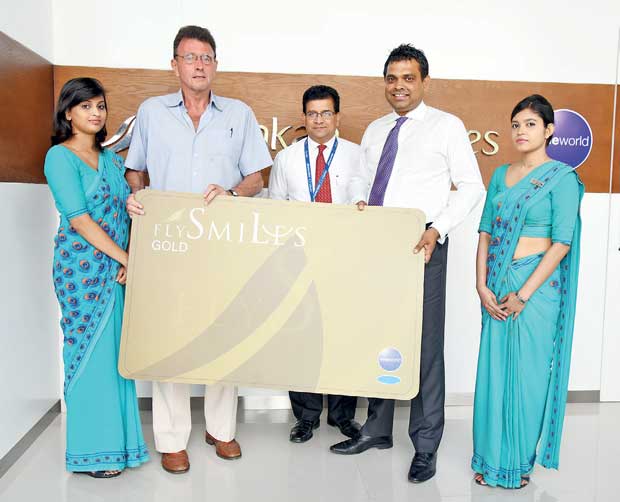 SriLankan Airlines General Manager - Commercial Operations Dimuthu Tennakoon (second from right), Manager FlySmiLes Shiran Perera, and Product Development Manager Senaka Bandaranayake presenting Peter Philips the Gold card
SriLankan Airlines gave one of its loyal customers, Peter Phillips of Shropshire, United Kingdom, a delightful surprise by rewarding him for his loyalty to SriLankan Airlines.
Accordingly, SriLankan's frequent flyer programme, FlySmiLes, presented him with a Gold card recently at a surprise ceremony to help him keep visiting his favourite destination of Sri Lanka during his retirement.
"I'm not at all used to being treated in such a special way, and I never expected such a wonderful gesture. But SriLankan Airlines has always given personal attention to me and all its customers, starting from its call centre, its staff in London, its airport check-in counters, and of course its on-board service," said Phillips, who has travelled perhaps 50 times to Sri Lanka, often on SriLankan's daily direct flights from Colombo to London. "It's not easy for a pensioner to travel overseas nowadays. But this FlySmiLes Gold card will certainly help me to keep visiting Sri Lanka," said Phillips, 69, who is now retired from his profession of teaching Geography and English. He was a leader of the Liberal Democratic Party in Shropshire, serving on the Shropshire City Council, and stepping down from politics in 2011 after 30 years.
Phillips had been vacationing in Sri Lanka up to three times a year, since he first discovered the Indian Ocean island's many attractions for tourists during a chance visit in 1985. This seems very fitting indeed, when one considers that his father had been based in Sri Lanka during World War II as a member of the Royal Air Force, helping to protect the Royal Navy's main Indian Ocean base in the eastern town of Trincomalee, now a popular resort destination.
He discovered Sri Lanka quite by chance while on a stint in Oman in 1985 teaching English to servicemen of the Royal Air Force of Oman. Finding that his vacation plans in India were not possible as flights were booked up, he chose to visit Sri Lanka instead and instantly fell in love with the island, returning sometimes two or three times a year. He even kept up his visits during the period when it was unsettled by a civil conflict, which ended in 2009.
He worked briefly in Sri Lanka in 1989 at the British Council, living in Colombo, the suburban resort of Mount Lavinia, and the hill resort of Diyatalawa.
"Sri Lanka is truly a land like no other, providing an amazing variety of resort locations, from beaches to hill resorts, cultural sites and much more. It also has a very pleasant variety of climates, ranging from tropical heat to cool mountains. Best of all, its people are so friendly and helpful," said Phillips, who now spends about a month on each of his twice-yearly visits.