---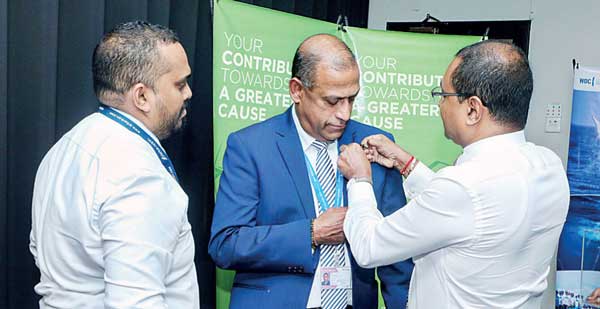 From right: SriLankan Airlines Head of Human Resources and Green Team Convener Pradeepa Kakulawala presenting the first pin to SriLankan Chief Commercial Officer Siva Ramachadran (centre) assisted by SriLankan Environmental Compliance and Planning Manager Dhanushka De Silva
SriLankan Airlines recently launched a number of significant initiatives at Bandaranaike International Airport aimed at enhancing its wide ranging efforts at environmental conservation on the theme of 'Going Wild for Life'.
Just weeks ago, SriLankan Airlines joined ʻUnited for Wildlife', a landmark crackdown on the illegal global trade in wildlife smuggling, organised by major conservation organisations worldwide and supported by the global airline and airport industries.

Among the recent activities was a programme aimed at helping the national carrier crack down on the illegal trade in wildlife smuggling, by raising awareness among SriLankan Airlines' staff. The programme was on the theme of 'Zero tolerance for the illegal wildlife trade', which was also the theme developed by the United Nations Environmental Programme for worldwide activities to commemorate the World Environment Day.

The airline's Chief Commercial Officer Siva Ramachandran presided over the event, together with Pradeepa Kekulawala, Head of Human Resources and Convener of the SriLankan Airlines Green Team, which drives conservation throughout the company. Other special guests included officials from Sri Lanka Customs and the Wildlife Conservation Department.

Among the panel of environmental experts were Wildlife Conservation Department Assistant Director Research and Training Dr. Lakshman Peiris and retired Customs Deputy Director Samantha Gunasekara. The employees of the airline's Cargo, Airport Service and Security divisions who attended the event were educated on matters such as best methods to spot smuggling, current trends in smuggling, which species are on endangered lists, types of animal parts that are often smuggled and whom to contact and network with regard to anti-smuggling efforts.

In addition, the sale of colourful lapel pin emblazoned with the words 'I'm APlanet Friend' was launched as part of the SriLankan Green Unit's initiative to raise awareness on this crucial issue and to raise funds for the SriLankan Green Fund. The first pin was presented to Ramachandran by Kekulawala.

Pins can be purchased for Rs.200 each at the Corporate Communications Division on the 21st Level of the East Tower of Colombo's World Trade Centre, the Office of the Environment Unit of the airline in its premises in Katunayake and also at the airline's Welfare Shop in Katunayake.

Another important event was the launch of 'Oasis', SriLankan Airlines' first carbon footprint monitoring system, which provides a comprehensive overview of SriLankan Airlines entire carbon footprint and automates much of the manual work that is being carried out by different departments of the airline in the area of conservation. The data will be disseminated as dashboards and reports which will help the management take decisions more realistically and understand the company's overall situation related to carbon management.