---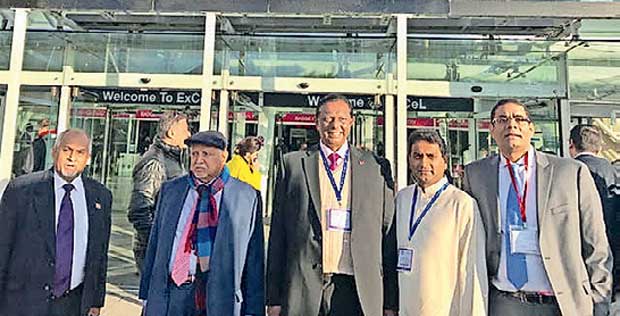 Tourism Development, Christian Religious Affairs and Lands Minister John Amaratunga at the entrance of WTM at ExCeL London with Tourism Advisory Body Chairman Harry Jayawardana, Advisor to Tourism Minister Felix Rodrigo, UK Tourism Promotion Officer Nalin Perera and Dinesh Weerakkody
World Travel Market, popularly known as WTM, is one of the leading global events in the travel and tourism trade, attracting more than 35,000 visitors, 5000 exhibitors and over 2000 travel agents and tour operators.
Sri Lanka Tourism along with the industry stakeholders showed its grand prestige to the world, at the WTM trade fair that started off on November 7, 2016. The Sri Lankan pavilion took a cutting-edge position with a theme to highlight her sun, sea, sand and wildlife.
The colourful pavilion was ceremoniously opened by lighting the traditional oil lamp by the distinguished guests, including Tourism Development, Christian Religious Affairs and Lands Minister John Amaratunga and Sri Lanka Tourism Promotion Bureau (SLTPB) Chairman Paddy Withana. Sixty-two Sri Lankan companies participated in the fair to promote Sri Lanka as a great tourist destination.
This year, another key highlight was the road shows arranged in the lead up to WTM. The SLTPB unveiled its calendar of the UK roadshows for 2016 by having business-to-business trade events in Manchester, Birmingham and London bringing Sri Lanka's pride and glory as a popular tourist destination, as well as the latest news and selling tips for this increasingly popular destination to the travel trade.
The UK continues to be the number one destination for tourist arrivals from Europe to Sri Lanka. In the 10 months to October 2016, the total arrivals from the UK was at 154,376, which was a 17 percent increase compared to the same period last year.