---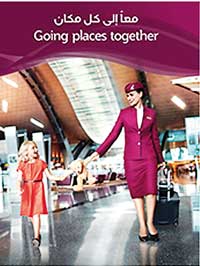 Qatar Airways has been ranked as one of the world's most valuable brands for the first time, becoming the only Qatari company to be represented in the 2016 top 500 global brand ranking. Brand Finance, a world-leading independent brand valuation consultancy, listed Qatar Airways as one of the most powerful global brands in the annual ranking.
The UK-based company is widely recognised as conducting highly extensive analysis of the world's most successful businesses to produce a definitive list of valuable brands. Qatar Airways Group Chief Executive Akbar Al Baker said, "Qatar Airways is one of the world's fastest growing airlines, operating the youngest fleet in the skies, awarded Airline of the Year on three occasions as well as Best Middle East Airline nine times by Skytrax.
Our position as one of the world's most valuable airline brands is testament to our renowned hospitality and dedication to providing our passengers with outstanding service." Qatar Airways Senior Vice President Marketing and Corporate Communications Salam Al Shawa said, "This honour is especially meaningful, having just launched the latest evolution of our brand in our Going Places Together campaign, which has seen an incredible level of support and engagement from our fans and passengers.
Qatar Airways has distinguished itself as a world-leading brand, representing vision and value. As our airline grows, we expect the bond with our passengers and the communities we serve to grow as well, and we will continue to invest in these very important relationships." Qatar Airways is the fourth Middle Eastern company and the ninth airline to earn a spot in the 2016 Global 500 list. Since its relaunch in 1997, Qatar's national airline has created a strong global brand identity resonating with award-winning service, offering the best experience in the air with the world's best Business and Economy class and the most innovative on-board entertainment system with Oryx One. The airline's propensity to deliver signature service, from celebrity culinary menus to designer on-board comforts, reflects its ambition to pioneer excellence in passenger services.
As the national airline of the State of Qatar, Qatar Airways takes pride in serving as an ambassador for the rich traditions and proud heritage of Qatar. The airline proudly supports a range of international and local initiatives dedicated to enriching its relationship with global communities. An essential part of its marketing strategy is partnering with organisations that inspire passion, such as Qatar Airways' long-standing sponsorship of FC Barcelona,
which has further driven brand visibility among sports fans around the world. The partnership with the world-ranking football club and its dedicated league of supporters reflects the airline's brand sentiment – Going Places Together. Brand Finance Middle East Managing Director Andrew Campbell said, "Brand Finance puts thousands of the world's biggest brands to the test every year, evaluating which are the most valuable. The value of a brand makes a contribution to a company beyond that which can be sold to a third party. As part of our analysis we looked at Qatar Airways' brand equity and measured the goodwill accumulated with customers, staff and other stakeholders and finally the impact of those on business performance." Qatar Airways is one of the fastest growing airlines, taking delivery of a new aircraft every 10 days on average throughout 2016. The airline has launched services to Los Angeles and Ras Al Khaimah in the first two months of 2016. The addition of scheduled services to Sydney, Boston, Birmingham, Adelaide, Yerevan and Atlanta will further expand the airline's global network over the course of 2016.