---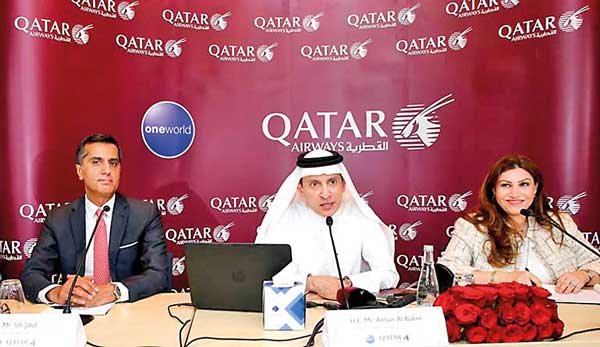 Qatar Airways' Group Chief Executive, Akbar Al Baker (C) addresses the airline's updates in a press conference at the Arabian Travel Market
Qatar Airways Group Chief Executive, Akbar Al Baker recently hosted a press conference on the first day of the Arabian Travel Market to announce the continued evolution of customer experience that the airline is committed to.

Key elements of this transformation include the opening of a luxurious new lounge in Dubai International Airport, as well as an exciting array of new destinations to be launched in 2016.
Speaking on the occasion of the event Akbar Al Baker said: "The Qatar Airways customer experience has been the cornerstone of our business from day one; it is the driver behind our success and a key point of difference amongst our peers in the industry.
By continuing to evolve the experience we offer to our customers we stay ahead of the curve, whether we do so by introducing the newest aircraft to our fleet, collaborating with Airbus to develop the next generation of aircraft, introducing new destinations, improving our on-ground offering with exclusive lounges, in the air with Wi-Fi and through our product with totally unique designs. Qatar Airways as a brand represents innovation and evolution in the industry, and we are proud to be the flag-bearers
of change."

Set to officially open on April 28th, the Qatar Airways Dubai Premium Lounge is located in Dubai International Airport, on Concourse D. Available to Qatar Airways First and Business Class passengers and Privilege Club Platinum, Gold and Silver members, the Dubai Premium Lounge is a modern and sophisticated space where travellers can relax and rejuvenate before their journey. The lounge is decorated with artistic Arabic calligraphy, Mediterranean-style tiles and calming water fountains, featuring private family areas, shower facilities, spacious seating areas and an international cuisine buffet.

Visitors to Arabian Travel Market can visit Qatar Airways at its state of the art exhibition stand, ME1530 in Hall 2. The stand offers the signature elements all travel and tourism professionals want to see and experience, such as the Business Class and First Class seat displays, as well as new features including an interactive global route network display and a holographic A350 model controlled through with 'swipe' or 'gesture' technology. The airline's latest brand campaign theme 'Going Places Together' is reflected in the redesign and activities, with the focus on bringing travellers
closer together.