---
Sri Lanka is proud to have one of its own, appointed as the General Manager in one of the most recognizable hotel brands in Dubai, United Arab Emirates (UAE).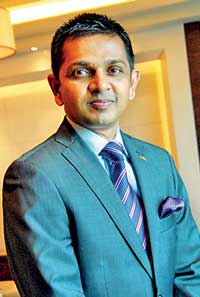 Pullman Dubai Creek City Centre Hotel & Residence is part of Accor Hotels – a world's leading hotel operator with 3900 hotels investing all its energy into making 'Feel Welcome' as the finest hotel promise. Accor Hotels welcomes a new era with the appointment of Nishan Silva leading the five-star premise located in the heart of Dubai Creek.

Alumni of Nalanda College, he gained his Master's in Business Administration from the University of Leicester, UK and also holds a Diploma in Hotel Operations Management from Lucerne, Switzerland. He was a member of his school's cricket team and also represented Sri Lanka schools cricket team that toured England and Bangladesh and has also played first class cricket for the Sinhalese Sport Club.

Nishan is the son of Mr. and Mrs. Wilmot Silva, and his new role has brought his family, his wife Ruvini Wawulagala and daughter Ayanna, in the most populous city in the UAE. A more than 20-year hospitality veteran has worked in some of the world's most award-winning properties, covering countries such as Malaysia, the Maldives, Sri Lanka, India and the Philippines. During his last two years with Radisson Blu Hotel Cebu, the Philippines - before he came to UAE – his brand of leadership garnered multiple accolades for the hotel, including HICAP Sustainable Hotel Awards Hong Kong in 2014 for Sustainable Operations, International Hotel Awards London 2014-2015 for Best 5-Star Convention Hotel, Trip Advisor Travellers' Choice Awards 2015, Safehotels Alliance Sweden Premium Certificate 2015 and as the Asia Pacific General Manager of the Year in 2014.

"Pullman Dubai Creek City Centre has a lengthy legacy and is a well-renowned location on the Dubai hospitality scene," said Silva.

"We have an outstanding asset and the vibrancy of the property, its situation and the range of services we offer are all aimed at serving our guests better, be they corporate, leisure or long-term residents. It's going to be an interesting and innovative time for us."

Having spent 16 years with American hospitality giants, Hilton Worldwide, and the last four with Carlson Rezidor Hotel Group, Silva aims to bring a different style of management to the property. His stellar career has seen him manage a number of roles over the years, providing him with a wealth of knowledge on both front and back of house operations.

"To me hospitality is more than a business; it is a state of mind, something we live every day. At Pullman Dubai Creek Hotel & Residence, we build our business one relationship at a time, connected to our guests, partners and each other.

We offer guests a vibrant hotel experience through our motto "our world is your playground" for the new generation of travellers and business leaders. We are proud to be stewards of the global hospitality, with a true flavour of United Arab Emirates," said Silva.