---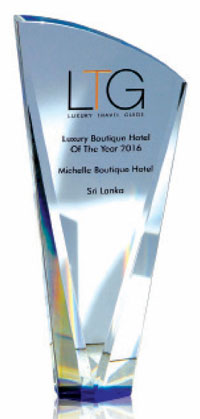 Michelle Beach, an upmarket Boutique Hotel along the Southern Coastal belt of Sri Lanka, in Balapitiya came on top at the Luxury Travel Guide Global Awards when it clinched the Luxury Boutique Hotel of the Year 2016 Award.

Located in a spectacular setting, Michelle Beach came as the Luxury Travel Awards' best choice beating many other prestigious properties.
These awards recognise and celebrate excellence across all sectors of the affluent travel and tourism industry in Europe, the Americas, Asia and Australasia and Africa and the Middle East with their team of experts having scoured the globe and travelled extensively in order to identify everything from the very best hotels.
Michelle Boutique Hotel was chosen in this prestigious Luxury Boutique Hotel category as it merges the elegance of contemporary architecture with luxurious furnishings and classiness, offering the supreme in privacy, security, connoisseurial cuisine and matchless service. Michelle comprises 16 avant-garde suites, which fall under Deluxe, Super Deluxe, Rose Petal and Infinite.
These awards identify the best accommodation options throughout the continent with its criterion focused on innovation and design, rooms and facilities, gastronomic achievements, service excellence, use of technology, sustainable development and location.

The Luxury Hotel Awards also recognise the hotel's connection with its guests. Michelle Boutique Hotel combines the grace of modern architecture with lush furnishings and style, presenting the greatest in privacy, refuge and cuisine. This is a main reason that the Luxury Travel Awards that aim to be the leading provider of luxury travel and lifestyle-related news, reviews and features to the global business community which provides readers with an objective look over holiday destinations, hotels, spas, entertainment, technology and much more has chosen Michelle Boutique Hotel, celebrating its excellence.

Under the Michelle group, another new venture will be unveiled in the future, which is a new luxury hotel in Waskaduwa.
The awards that Michelle group has received over the years brought about this impetus to start another such venture that is currently under construction in a 293-perch land that was accrued by the group for this project.