---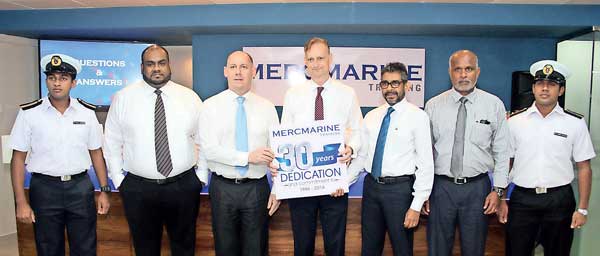 From left: Cadet Randika Jayasekara, Mercmarine Training Head of Business Development Lalindra Fernando, Mercmarine Training Director Training Michael McEvoy, Mercmarine Group CEO Thomas Kriwat, Mercmarine Group COO Captain Rohan Codipilly, Mercmarine Training Head of Academics Captain L.K. Jayasuriya and Cadet Chamod Rajaguru
Mercmarine Training, one of Sri Lanka's foremost maritime training institutes and member of the renowned Mercmarine group, recently announced the launch of a special scholarship programme for female officer cadet applicants.

The announcement of the programme was in line with the celebration of 30 successful years and is a testament to its continued dedication and excellence in maritime training at Mercmarine Training since 1986.

The programme seeks to reward two of the top scoring female cadets at the selection process for a scholarship programme up to Rs.1,000,000. This initiative by Mercmarine Training marks yet another milestone in shaping careers of the young and dynamic Sri Lankan youth.

Speaking on this landmark initiative, Mercmarine Group Chief Executive Officer Thomas Kriwart said, "In our 30 years of successful operation in Sri Lanka, Mercmarine Training has continued to produce top-notch seafarers and maritime personalities through the institute's world-class training courses. We have continued to push forward with time, providing the best of quality training to cadets across the island.

Accordingly, we acknowledge the recent increase in demand for more women in the maritime industry, particularly in leadership roles and have thus introduced this programme to attract more local female talent. We believe that this will enable women to train alongside men and so acquire the high level of competence that the maritime industry demands today."

In recent years, global organisations including the International Maritime Organisation (IMO) have held several conferences to discuss the advancement of women throughout maritime professions in both shore-based and sea-going posts. This unique scholarship programme is an unprecedented initiative that will be open to all female cadets applying for Engineering or Deck Cadet Courses. The institute will select the top two applicants who demonstrate the highest skills with the best scores, to be eligible for the 90 percent grant of the phase one tuition fee in which ever discipline they select.
Amidst their scholarship programme announcement and the 30th year anniversary celebrations, Mercmarine Training warmly welcomed newly appointed Director Training Michael Mcevoy to the establishment. Mcevoy served in the British military and will be instrumental in offering invaluable training and knowledge to the students through his expertise and experience.

Mercmarine Group of Companies Chief Operating Officer Captain Rohan Codippily stated, "It is with joy that we look back on our three-decade long journey and recollect the contribution our graduates have made to the field, not only here in Sri Lanka but in the international arena as well. I am also proud to announce the inclusion of Michael Mcevoy as the institute's official Training Director. I strongly believe that Michael will be an effective addition to our team and will fast track our plans of expansion to shape well-rounded seafarers with an extra edge in their careers."

Commenting on his recent appointment, Mcevoy said, "With over 30 years of experience, Mercmarine training has understood that all training should be relevant, timely and informative. Accordingly, our training promotes the desire to achieve greatness and ensures that the seeds you sew today will reap tremendous benefits tomorrow, for the seafarer, for organisations and for the maritime industry. I am excited to embark on this journey and am confident that we will continue to produce world-class professionals in the years to come."

Mercmarine Training plans to expand and further upgrade the institute, their courses and training programmes in the near future in order to offer their students the best facilities and a quality education in the careers they wish to pursue in the shipping field.