---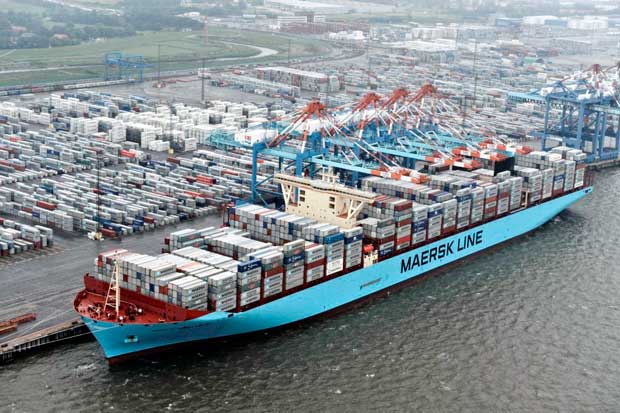 The world's largest container shipping company Maersk Line, with a presence in Sri Lanka for more than 25 years, continues to invest in Sri Lanka and contribute to its economy by bringing some of the latest and largest ships to Colombo.

These megaships provide efficiencies and economies of scale to exporters and importers, thereby driving efficiencies in their supply chains. As such, the 'Milan Maersk', one of the world's largest ships, will arrive in Colombo on the 17th October at 1200hrs local time and berth at the Colombo International Container Terminal (CICT)

With an overall length of 399 metres and a capacity of 20,568 TEU (twenty-foot equivalent unit) the container vessel is the largest thus far to arrive in Colombo. The megaship belongs to the second generation of Maersk Line's well-known Triple-E class, that is currently setting new standards in container shipping, replacing smaller, less efficient ships on the East-West-trade.

The 'Milan Maersk' calls Colombo as part of the AE1 service which is currently the fastest service from Colombo into major North European countries like UK, Netherlands and Germany. It also brings essential imports from China and South East Asia into the Sri Lankan market. Commenting on this historic moment, Maersk Line Sri Lanka Country Head Zeeshan R. Mukhi stated: "Sri Lanka is a strategic market for Maersk and this is a momentous occasion for us as well as the industry as a whole. We fully support the vision of the Government of Sri Lanka to develop the country into a maritime hub and are keen on lending a hand to ensure its success. It is with this vision, that we are bringing one of our largest ships into the port of Colombo."

At present, Maersk Line in Sri Lanka as the leading Container Shipping Line in the country, has 10 weekly services, which includes vessel sharing agreements, connecting Colombo with global ports with competitive transit times and high schedule reliability. Maersk Line also offers customers ease of business using e-commerce solutions, superior accessibility and support through its expert sales and customer engagement teams.