---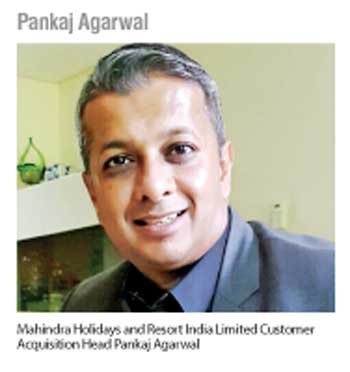 Mahindra Holidays and Resorts India Limited (MHRIL), the leisure and hospitality arm of the Mahindra Group, a US$ 19 billion multinational group based in Mumbai, India. Mahindra Holidays is the largest vacation ownership company, outside of the USA, and offers quality family holidays to its members. The company is committed to creating 'Magical Moments' for its members when they holiday at any of its resorts in India and abroad, as well as in their city of residence all year round. The company ensures its members take back memories which last them a lifetime; thus forging a long-lasting relationship. On November 26th, Club Mahindra will join forces with the Ideal Group of Companies who are the sole agents for Mahindra and Mahindra automobiles in Sri Lanka, to bring to Sri Lankan holiday makers a host of superlative offers that are truly unbeatable in the leisure sector. Over the past 20 years, Club Mahindra has worked with local authorities and NGOs in locations where the company operates to bring about inclusive growth and awareness towards conserving and maintaining the bio-diversity of the region. Featured are two interviews with Mahindra Holidays and Resort India Limited Customer Acquisition Head Pankaj Agarwal and Ideal Retreats Managing Director Richard de Soyza respectively:

When was Club Mahindra first launched?

Club Mahindra was launched in 1996. Over the last 20 years, we have grown to be the largest vacation ownership company in the world, outside of the US. As on September 30, 2017, MHRIL has 225000 vacation ownership members and operates 53 resorts across India and abroad and its subsidiary, Holiday Club Resorts Oy, Finland, a leading vacation ownership company in Europe has 50,000 members and 32 resorts across Finland, Sweden and Spain.

What was the reason for introducing this concept in India?

It was a new concept and Mahindra was among the first few to identify the opportunity as worldwide the concept was backed by companies who were high on Trust, Transparency, and Credibility for which Mahindra was endorsed and known in the market.

How long did it take for this to become a success and be firmly established in India?

We have focused on our customers from day one and our objective has been to provide unique and immersive family experiences to all our members across our resorts. Our focus on quality, customer delight and experiences, ensured that we were successful from the very beginning. Over the years, we have grown exponentially in terms of our global footprint and member additions.

How many members do you currently have?

We have approximately 225000 memberships

How many partner hotels do you have?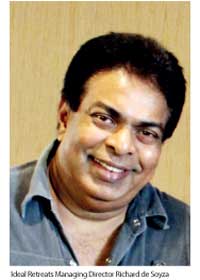 We have affiliations with Resorts Condominium International (RCI), a global holiday exchange network of 4500+ resorts in 100 countries which is the world's largest exchange company.

Amongst all the countries you operate in, which country has boasted the highest success rate?

Well India of course, followed by the UAE and Qatar

What are your future plans for Club Mahindra both in Sri Lanka as well as internationally?
We plan to start with our sales office through Ideal Retreats and look forward to having a Club Mahindra property in Sri Lanka in the coming months. We are already in touch with the OZO group of hotels to start the first tie up for our existing members.

Richard de Soyza

Ideal Motors has been known primarily for its role as one of Sri Lanka's major automotive players.
What has made you venture into the leisure industry, despite your alliance with Mahindra and Mahindra?

If you look at the companies that are the cornerstones of the Ideal Group, you will find that it's vision clearly identifies diversification into niche fields. Inbound tourism especially from India was foremost on our agenda when we incorporated Ideal Retreats. It is at this time that we were also negotiating an alliance with Club Mahindra Holidays to represent them in Sri Lanka and succeeded in partnering with them.

Does Ideal Motors have plans to venture into the leisure industry by going into hotel management/development?

Certainly. We will address that as our next phase in our operations. We are already constructing a review and booking website as an ancillary vertical and this will definitely be a prelude to developing our own properties.

How will Club Mahindra operate in Sri Lanka?

A: We will be responsible for promoting membership of Club Mahindra to families, individuals and to the corporate sector. We will initially work in compliance with the strategies set by our principles with a few deviations of our own since we are more aware of the local market trends. We also benefit by the presence of a Senior Management representative of Club Mahindra who will sit in our offices permanently.

What is your target for the initial year of operation?

We are confident of achieving a hundred plus membership in our first year.

Do you think that such a concept is sustainable and lucrative?

Well, the concept of Vacation Ownership is being introduced to Sri Lanka for the first time and this certainly will generate a lot of enthusiasm. Club Mahindra is perpetually adding on to their 80 plus resorts, and this will no doubt sustain the growth in membership.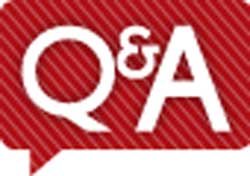 In today's context of internet bookings how do you propose to popularize the Club Mahindra concept?
This concept is different to prevailing offers. You plan your holiday ahead and the benefits of your membership revolve around flexibility. Your holidays are pre paid for 25 years with an annual maintenance fee, therefore your cost of seven days of your annual holiday plan remains constant from the first year to the 25th year. This is a sure winner.

Will Ideal Retreats expand its portfolio or will it confine itself to Club Mahindra?

As I mentioned, Ideal Retreats will certainly expand its portfolio into numerous facets of hospitality and we aim to be the best and most innovative. In other words, we will be constantly turning a page.