---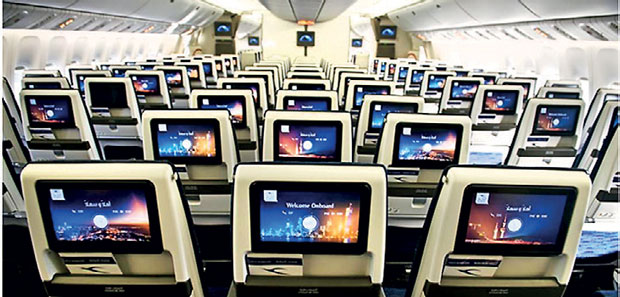 State of Kuwait's national carrier Kuwait Airways' second of 10 Boeing 777-300ER aircraft ordered arrived in Kuwait on January 1.
With the first aircraft welcomed less than a month ago, December 2016, Kuwait Airways remains on schedule to have all 10 aircraft received and in commercial service by end-August 2017.
The new arrival will be the second aircraft to bear the dynamic new livery of Kuwait Airways – as revealed in October last year – and as is the tradition with the airline, the aircraft has been named.
Following the island theme of the first aircraft's naming, the second B777-300ER will be called 'Um Almaradim' – after the Kuwaiti island situated near its maritime border with Saudi Arabia.
Kuwait Airways' new B777-300ER fleet will initially be deployed on high traffic routes on its network, including London, New York, Paris and Bangkok. As the remaining B777-300ER aircraft join the fleet, it is expected that other long-haul routes on the airline's network will also be served by the new aircraft.
Commenting ahead of the arrival of the second Boeing 777-300ER, Kuwait Airways Chairperson and CEO Rasha A- Roumi said, "The delivery of the second Boeing 777-300ER is another significant step forward for Kuwait Airways and yet another milestone achieved on our five-year transformation plan."
According to airline sources, the arrival of the remaining eight Boeing 777-300ER aircraft to be delivered before end-September 2017 is part of a larger "fleet acquisition plan" that will see the addition of 10 A350 and 15 A320neo aircraft arrive, between 2019 and 2021. At the conclusion of the airline's transformation plan (2021), Kuwait Airways has claimed it will have the youngest commercial airline fleet in the world.
One of the airline's immediate-term priorities has been to increase market share by enhancing its services on the existing routes and this will certainly be supported through the deployment of the new aircraft and their onboard features. Going forward, the arrival of the Boeing 777-300ER (the 'ER' standing for 'extended range'), will also allow Kuwait Airways to look at adding more non-stop, long-haul routes to its network.