---

Adding to an ever-growing list of international awards and accolades, The Kingsbury once again has stamped Sri Lanka on the global hospitality map.

The World Luxury Restaurant Awards has bestowed The Kingsbury's restaurants with; Regional Winner: South West Asia best Luxury Seafood Restaurant 2017, The Ocean; Regional Winner: South West Asia best Eclectic/International Cuisine Restaurant 2017, Harbour Court; and Country Winner: Sri Lanka best Luxury Hotel Restaurant 2017, Harbour Court.

Envisioning higher standards of culinary services and experiences through healthy competition, the World Luxury Restaurant Awards is an organization that is well renowned in global hospitality. This year's awards were held in Hanoi, Vietnam where the crème de la crème of the food and beverage world attended the glamourous event. Setting the basis for service industry standards around the globe, the World Luxury Restaurant Awards provides true recognition to luxury restaurants in their relevant categories during its annual voting phase. Votes are gathered through various channels from guests and industry professionals, showcasing the true value of service excellence. Judging criteria for restaurants include culinary excellence, memorable experiences, outstanding atmosphere and service.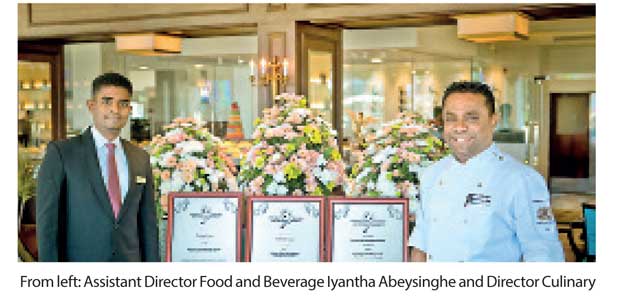 This is a remarkable achievement for Harbour Court and The Ocean. Harbour Court has been long established as the best restaurant in terms of exceptional range of international cuisine to cater to guests from around the world and provide Sri Lankans an international dining experience. The Ocean on the other hand offer seafood from all the world's oceans with the ability to pick out ocean fresh seafood with the ability to get it made to any recipe of your choice. The teams at both restaurants take great pride in providing a professional and a heartwarming service to ensure a memorable dining experience. "These accolades are testimony to our high standards at The Kingsbury," The Kingsbury General Manager Alexandre Diaz-Albo stated.

At the helm of The Kingsbury's culinary achievements is Director Culinary Services Chef Kithsiri De Silva: "I would like to attribute these achievements to the unwavering commitment that we, as a team, exercise in maintaining international standards in terms of quality, innovation and service excellence to raise Sri Lanka's position in the world of culinary."


Food and Beverages Assistant Director Iyantha Abeysinghe too was elated with the recognition. "We have some of the best talent in the industry and such recognition simply intensifies our efforts and the team spirit of the F&B carder."

The Kingsbury culinary team sets the bar higher and higher as it is a continuous improvement process that ensures with emphasis on training and overseas exposure.