---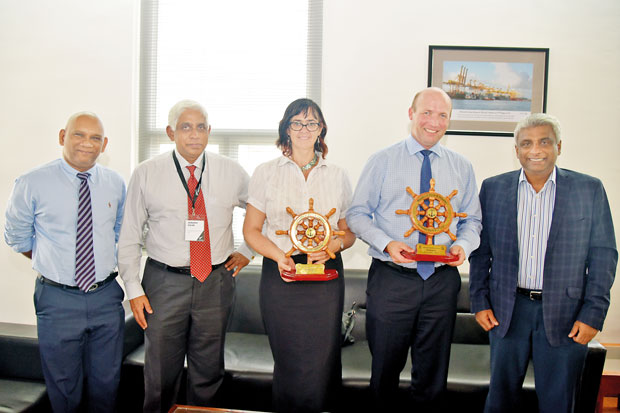 New Zealand Food Safety and Veteran Affairs Minister and Transport and Immigration Associate Minister David Bennete, New Zealand High Commissioner (Designate) to Sri Lanka Joanna Kempkers, New Zealand Honorary Consulate for Sri Lanka Senaka Silva, Sri Lanka Ports Authority Chairman Dammika Ranatunga and Lanka Ports Authority Executive Director Sanjeewa Wijeratne
A high-profile New Zealand delegation including New Zealand Food Safety and Veteran Affairs Minister and Transport and Immigration Associate Minister David Bennete, New Zealand High Commissioner (Designate) to Sri Lanka Joanna Kempkers and New Zealand Honorary Consulate for Sri Lanka Senaka Silva made a courtesy visit to the Sri Lanka Ports Authority (SLPA) recently.
The delegation was welcomed by SLPA Chairman Dammika Ranatunga.
During the visit, discussions were held between Bennete and Ranatunga on furthering relationships between the commercial port sectors of the two countries. Areas such as port development, furthering activities in shipping and trade sectors were also discussed.
After the discussions, Bennete and the delegation made a special inspection tour of the South Port of the Colombo Port and also inspected the progress of the East Container Terminal (ECT) development programme.