---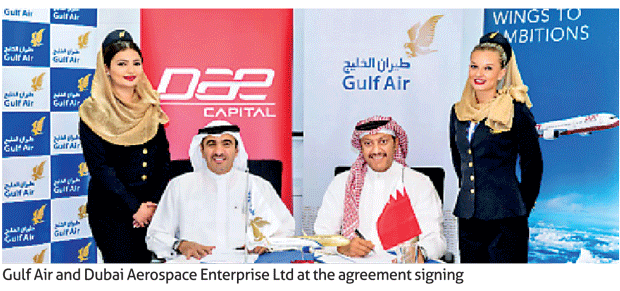 Gulf Air, the Kingdom of Bahrain's national carrier, and Dubai Aerospace Enterprise Ltd (DAE) recently signed an aircraft lease agreement for five Boeing 787-9 Dreamliner aircraft that are scheduled to enter the Gulf carrier's fleet in 2018.

These modern, fuel efficient planes will help Gulf Air expand its network, facilitating the long-term expansion capabilities for the airline's future network requirement.
Gulf Air Deputy Chief Executive Officer Captain Waleed Abdulhameed Al Alawi commented on the agreement: "Our agreement with Dubai Aerospace Enterprise sees Gulf Air gear up for a landmark moment in our history as we welcome five Boeing 787-9 Dreamliners in the coming months. The incoming aircraft represent an important step in our strategic direction towards furthering Gulf Air's fleet modernization process, enhancing passenger comfort and broadening our network as we look to strengthen our presence across the globe."

Dubai Aerospace Chief Executive Officer Firoz Tarapore said: "We are pleased to be in a position to support Gulf Air's fleet strategy in 2018 as they look to develop their route offering. Leasing these top-of-the-range aircraft underlines Dubai Aerospace Enterprise's ability to work with customers with varying requirements and is made possible by our long-standing presence in the leasing and finance space. We look forward to supporting one of the Gulf region's premier airlines as it continues to grow.