---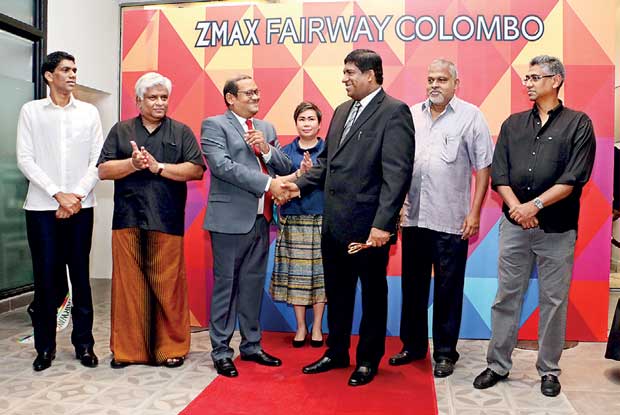 Finance Minister Ravi Karunanayake and Fairway Holdings Chairman Hemaka de Alwis greeting each other
By Zahara Zuhair
Marked as a modern hotel with a difference, ZMAX Fairway Colombo hotel, which was constructed with an investment of approximately Rs.2.5 billion, opened its doors to the guests recently.
It is owned by Fairway Holdings and managed by China-based hotel chain Plateno Hotels Group, which is ranked as the 5th largest hotel chain in the world and the first in Asia.
Located in Fort, the 181-room hotel, comprises of eight floors and designed to cater to the business and leisure travellers.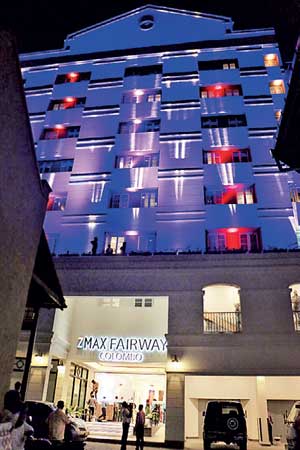 Termed as smart luxury, it was noted that it is the first hotel in the city to have the concept of a food court.
"We are pleased to offer high-tech innovation and smart luxury to short stay travellers, all at a very affordable price," said Fairway Holdings Chairman Hemaka de Alwis.
Talking at the opening ceremony, chief guest Finance Minister Ravi Karunanayake praised Hemaka de Alwis's entrepreneurship and innovative skills and his ability to turn anything from nothing.
He said that this would play a vital role in tourism industry, hoping that it would contribute to the success story of Sri Lanka.
Fairway Holdings (Pvt.) Ltd Group CEO/ Director Imal Fonseka told Mirror Business that the hotel was built targeting the Z generation, blending latest technology with design.
Expecting to put the guests in-charge of the services offered, it provides technological conveniences such as setting up the bill from the room with IP-TV, access to room with mobile phone etc.
He said they were concerned about hotel guests' preferences as most of them prefer privacy.
"They need privacy; they don't like non-hotel guests in the hotel. We don't have conference or banquet rooms, weddings or anything like that, the only people in the hotel are the guests," he stressed.
Another unique feature according to him was 'One Hotel One Artist', as the art work has been done by renowned Sri Lankan artist Anoma Wijewardene where there are over 200 artworks, one in each bedroom and twelve per corridor of each seven floors.
He said that her artwork revolves around their concept sustainability, which is another unique feature of the property. "We have used only one artist, one single artist has designed the whole hotel. I think there are only a few hotels in the world done by one artist. The reason why we chose her because her arts are based on earth, water, which is what we want to talk about," he said.
This is Plateno's second property in Sri Lanka, the first being the Portonofino Resort Tangalle which was unveiled in 2015. The group consists of over 16 brands, including MaisonAlbar, H12 hotels, 7 Days Inn etc.
Plateno Hotels Group signed on as management partner for the Fairway City Hotel in 2015.