---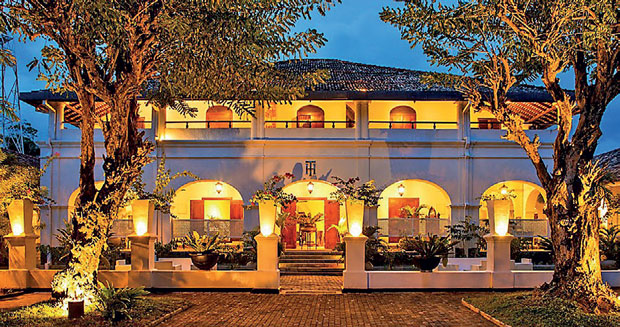 Tamarind Hill by Asia Leisure is a divinely restored manor house built close to three centuries ago in the outskirts of the heritage city of Galle that oozes style and sophistication.

Constructed by wealthy Sri Lankan aristocrat Johannes Amarasiri, it perhaps gained most prominence as the official residence of the British Admiral of the peninsular and orient steam navigation company - the famed P&O line.

A small luxury hotel of the world, Tamarind Hill is characterized by sloping tiled roofs and high ceilings; long verandahs and smooth polished cement floors; antique furnishing; arches and four-poster beds with Paintings, drawings and maps that lend color to the bright white walls.

The luxury hotel offers guests a choice of 12 crayford rooms and two suites set in long colonnaded wings and furnished with antiques, oil paintings and oriental rugs. A four-poster bed takes centre stage amidst the towering almirah, whilst a what not graces the lounge area along with a Queen Anne table. The statement bathrooms include luxury fittings, a rain shower and decadent bath amenities based on ancient Sri Lankan Ayurveda. Guests are also treated to a luscious pillow menu.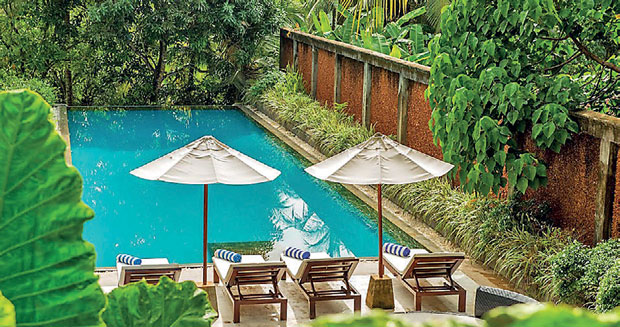 The Admiral and Captain suites, believed to have been the rooms of the British Admiral during his residence, are also furnished with a liyana almirah and pettagama, and include a private balcony beneath a sloping wooden ceiling. The opulent bathrooms are embellished by a claw-foot bathtub and an intricately elaborate vanity counter.

Tamarind Hill takes its name from the tamarind tree that continues to hold centre stage in the spacious courtyard that lies in the heart of the property which gives way to the jungle fringed infinity pool and three acres of tropical gardens. The property lies by Kapu Ela, the extension of the Gini River that meanders by, constructed to bring the river right up to Tamarind Hill in order to ease the movement of building materials during the construction of the house. Asia Leisure's proprietary āmoda spa is also available offering ayurveda rituals and luxurious products to soothe stresses away.

Tamarind Hill offers car and bicycle rental for guests to explore the area and will organize river safaris and fishing under the guidance of nearby village folk. A temple that is home to a 400-year old Bo tree lies at a distance of a 10-minute walk whilst the UNESCO Heritage City of Galle Fort is but four kilometers away. Golden beaches, whale and dolphin watching and even tea, cinnamon and rubber plantations are but a drive away.

Tamarind Hill, Galle is the elegantly luxurious offering by Asia Leisure, the leisure subsidiary of Asia Capital PLC. Asia Leisure's vision is to provide one-of-a-kind hotel experiences across a variety of locations with focus on unique concepts, catering to a diversity of interests and tastes of the luxury traveller.