---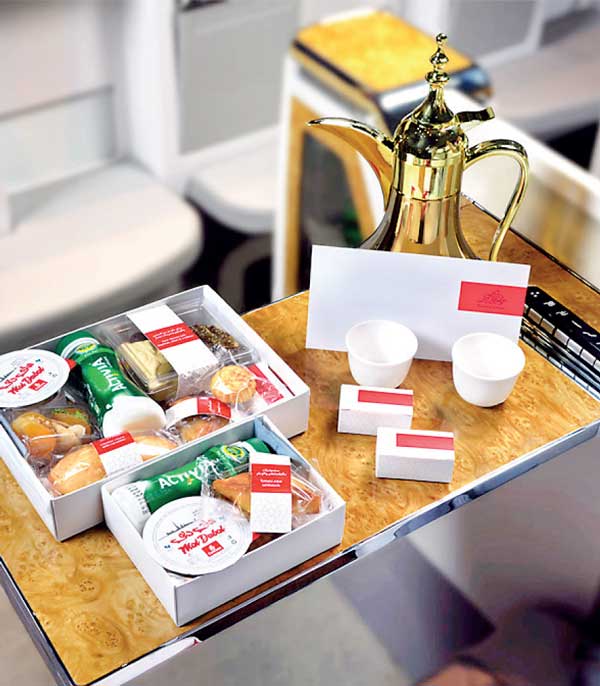 Emirates' newly-designed boxes for the Ramadan Iftar service
Emirates is bringing back its Iftar service for customers travelling during the holy month of Ramadan. The special boxes have been redesigned and will be available across all cabin classes on select flights including those to and from the Gulf region as well as Umrah groups travelling to Jeddah and Medina.

The Iftar boxes will allow those observing Ramadan to break their fast with a nutritious and balanced meal. The service has been a mainstay on Emirates flights for over 20 years and is available for the whole month of Ramadan expected to begin on June 6 this year.

The boxes feature a new look with a clean and modern Arabesque design inspired by the region. The Iftar service is a further commitment towards an exceptional travel experience, providing comfort and convenience to customers who are observing the holy month of Ramadan and allowing them to enjoy the world-class meals the airline is known for.

This year's Ramadan boxes will have a new menu designed by Emirates' chefs. These menus feature a Middle Eastern flavour, while remaining distinctly global and will be refreshed mid-Ramadan. The Iftar box includes options such as za'atar chicken with hummus, spinach fatayer, halloumi cheese and cucumber sandwiches, traditional sweets such as mammoul and dates, as well as yoghurt.

Emirates utilises a unique tool to calculate the correct timings for Imsak (the time to commence fasting) and Iftar while in-flight. It calculates the exact Ramadan timings using the aircraft's longitude, latitude and altitude, ensuring the greatest level of accuracy possible while onboard. When the sun sets, passengers will be informed of the Iftar time by the captain. This tool was developed to supplement Emirates' annually produced booklet on the timings for Ramadan, available on every flight.

A snack box will also be provided at boarding gates allowing customers to break their fast prior to boarding or while boarding. The snack boxes will feature pastries like cheese fatayer and Arabic sweets like baklava and will be served for flights departing close to Iftar at Emirates' hub in Dubai International Airport Terminal 3. On certain routes, these boxes will be offered to customers prior to Imsak.

Both variations of boxes will feature a box of dates, symbolic of Ramadan. During the holy month, cold meals will be served in lieu of a hot one on all flights to Jeddah and Medina, including Umrah day flights.

Emirates' award-winning ice system will feature popular movies such as Zinzana and Omar waSalwa. These are in addition to 49 Arabic movies, 19 channels of Arabic TV programming and 94 Arabic audio channels, including the Holy Quran channel.