---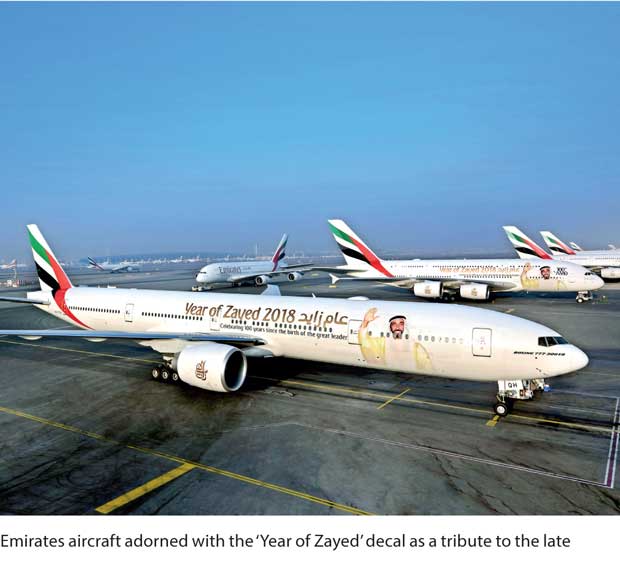 Emirates will be sharing the legacy of the late Sheikh Zayed bin Sultan Al Nahyan to a global audience in 2018.

To celebrate the 'Year of Zayed', Emirates is featuring the achievements of HH Sheikh Zayed in the pages of its official in-flight magazine, Open Skies each month. The 'Year of Zayed' commences in 2018 and coincides with the centennial of the birth of the UAE's
founding father.

Over the course of 2018, the award-winning monthly title from Motivate Publishing will share a host of classic images and stories of Sheikh Zayed, celebrating his legacy and honouring his memory. The magazine will dedicate pages to highlight his role in establishing the Federation as well as his local, regional and international successes. In addition, each article will also tell readers how they can explore the region and see HH Sheikh Zayed's vision come to life.

Open Skies is available to about 5 million passengers who fly on Emirates each month allowing the airline to spread the message of inspiration, dedication, and leadership of UAE's founding father across its six-continent network.

Emirates has also adorned its aircraft with a bespoke livery of the late Sheikh Zayed. 10 Emirates aircraft - five Airbus A380s and five Boeing 777-300ERs - will carry the special livery and travel across the Emirates network throughout 2018. The unique livery is the first time Emirates has featured a customized decal of a well-known public figure.

Sheikh Zayed bin Sultan Al Nahyan was the founding father of the UAE, and one of the most prolific Arab leaders of his generation. His driving vision and leadership infused the United Arab Emirates with a spirit of responsibility, and motivation to pursue long-lasting, sustainable development. Earlier this year, Sheikh Khalifa bin Zayed Al Nahyan, the President of the United Arab Emirates, declared 2018 as the 'Year of Zayed', marking the 100 years since the birth of the nation's founding father.