---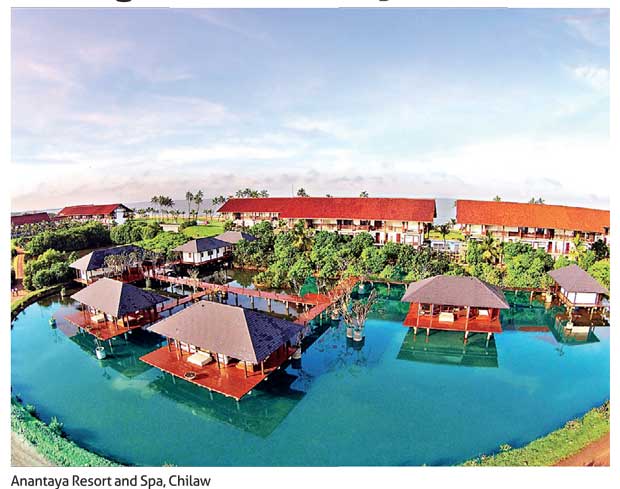 Surrounded by azure hues of the Indian Ocean and complete with star-class luxury as well as excellent service levels, Anantaya Resort and Spa, Chilaw has become a popular destination wedding venue within two years since inception.

The resort commenced operations in 2014 as the first of a chain of resorts run by Laugfs Leisure, a subsidiary of Laugfs Gas PLC. The resort possesses 87 star-class spacious rooms as well as four water villas. Anantaya Resort and Spa, Chilaw is a sought after venue for Meetings, Incentives, Conferencing and Exhibition (MICE) by both local and international business travellers. Anantaya Resort and Spa in Chilaw offers guests its signature promise of infinite luxury and tranquility within its exquisite premises blessed with spectacular views.

"The stirring beauty of our location and the excellent service level that our team consistently provides makes us a star class choice for romantic destination weddings. We plan and carry out our destination weddings in such a way that our guests are able to savour and cherish enchanting, sublime and memorable moments on their special day with their loved ones.

"As a Sri Lankan corporate entity we are proud of this achievement, further evidenced by the number of accolades we have earned within such a short time. I believe that we are geared to steer Sri Lanka towards becoming one of the world's finest luxury wedding destinations," commented Laugfs Leisure Limited Sales and Marketing Head Musthaq Ahamed.

Anantaya Chilaw has received the high honours of being ranked as one of the TripAdvisor Travellers' Choice of Top 25 Luxury Hotels in Sri Lanka. In 2016, the resort was honoured with the Regional award for Luxury Wedding Destination at the World Luxury Hotel Awards 2016 held in Qatar.

Having secured the interest of many international clients, Anantaya Chilaw has become the perfect luxury venue for destination weddings with an elegantly decorated indoor setting as well as a picturesque outdoor location.

It offers both indoor and outdoor wedding facilities to a discerning clientele as the property is well-equipped to treat each and every guest as a VIP, given its spacious and opulent property. Whether the couple prefers a garden wedding or a banquet wedding, Anantaya Resort and Spa in Chilaw can facilitate custom made dream weddings for any number of guests, be it an intimate affair or an exotic and an extravagant one.