---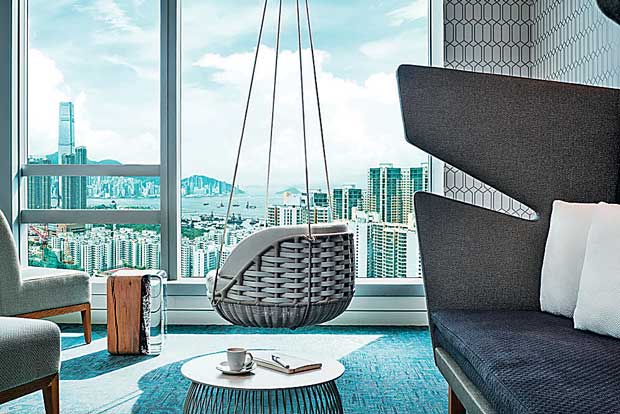 By Chamindra Wickremasinghe
Facilitating to experience the sights and sounds of Hong Kong during the three-day Cathay Pacific Airways familiarisation tour was upscale Cordis, Hong Kong at Langham Place, in the bustling district of Mongkok, a 30-minute drive from Hong Kong International Airport.
As a five-star hotel, on the one hand as it is expected to be, everything at Cordis is tailored to rich guests' way of life to make it a 'right' stay for them; a stay of comfort, relaxation and entertainment is assured at every visible point; guests' personal happiness and well-being are well tended to; its caring, intuitive and supportive service offering deserves praise.
However, what's unusual but worthy for a hotel is, mingling strikingly different worlds – East and West, urban and natural and modern and ancient – Cordis makes a stay there become after all not just luxury, but a journey through history and an insight into sociopolitical, religious and cultural ideologies, and consequently, knowledge, consciousness and inspiration.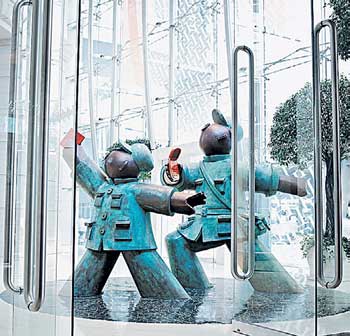 Devoted Cordis for modern traveller
An elegant hotel, Cordis' 42 storeys stand in the centre of Hong Kong's Kawloon peninsula's most congested shopping and residential district – as a traveller its advantageous outweighed disadvantages – to serve guests with devotion, for Cordis says, "Devotion is everything. Devotion to detail, no matter how small, is at the heart of everything we do."
Cordis' 17 types of 664 guest rooms to fit varied guest needs – specially-designed family rooms to luxury suites – were all spacious, naturally-lit with floor-to-ceiling windows, offering panoramic views of the city or the distant Victoria Habour, tagged as the lifeline of Hong Kong.
The large king bed and pillows promoted great rest; the bathroom featured an anti-fog glass mirror and a generous supply of amenities.
The state-of-the-art broadband, workstation facilities, Samsung LED TV, iHome Bluetooth MP3 Player and USB charging station made Cordis a choice for modern travellers.
The complementary refreshments served – fresh bright strawberries to a mix of modern and traditional foods – were always revitalising.
With personalised welcome letters, guest gifts and considerate and caring gestures, Cordis, Hong Kong team added to making it a pleasant stay.

Complementary smartphone
In each Cordis room is a complimentary smartphone for the guests' use throughout the stay with Cordis, offering unlimited local calls although IDD calls were limited to Australia, China, Singapore, the UK and the US at the time. Being connected with families, friends and workplaces was always possible at no cost for its 3G data connectivity and Wi-Fi tethering anywhere in the city. Live moments travelling the city then and there could be captured with its video and camera capabilities and shared having access to social media.
The Hong Kong City Guide integrated guided to choosing where to shop, eat, play and visit in the city, while Cordis updated the hotel's latest offers and happenings on the smartphone laying more choices before guests.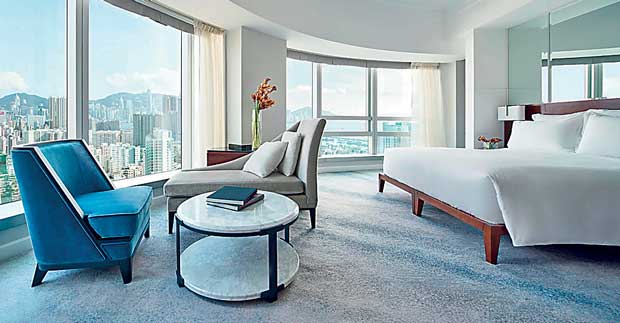 Exquisite dining
Having a collection of innovative and contemporary restaurants, dining at Cordis was made an exquisite experience by Cordis' culinary experts at every level.
The two-Michelin-starred Ming Court profiled a contemporary menu with a touch of East-West mix – Chinese, European, Australian and Japanese influence – but was also distinct for traditional Cantonese cuisine.
The Ming Court Deluxe appetisers served included Chinese black fungus and chilled layered silk tofu. Traditional wellness dim sum combinations were dished up in traditional steam baskets; Chicken Consommé, Matsutake Mushroom, Bamboo Pith came in a pretty little glass teapot to pour into another little glass cup to consume; steam pouring Crystal Extravagance was the most dramatic dessert ever had.
From the 380 labels of world's finest wines from over 100 regions in Ming Cellar's hold, a cellar consultant and a wine steward provide a wine pairing service, helping guests select the wines suiting their taste and matching the menu with Ming Court restaurant chefs. Foremost here is blending exquisite Cantonese cuisine with innovative wine pairing.

A feast
True to its name, urban chic restaurant and bar – Alibi – Wine Dine Be Social – was a place for wine, dinning and being social, where there were homegrown, award-winning mixologists serving creative cocktails, tailor-made for our preference. Alibi was the place for Cobb salad with quail eggs and US romaine lettuce as an appetiser, slow roasted smoked French pigeon for main and stone-shaped Zen cake for sweets, among numerous other delicacies.
At the open and airy The Place all-day dining restaurant was a three-metre seafood bar where seated were plenty of fresh lobsters and crabs and whole lot of freshly-shucked oysters on ice – an unlimited teat for seafood lovers.
With buffet for Asian and Western favourites at the live stations and delicious desserts at the long dessert counter, there was always a 'feast' atmosphere in The Place, a happy place to dine.

Bird's eye view
When breakfasting at Cord's 36th floor Club Lounge, while a bird's eye view of the Kawloon metropolis through its great glass windows could not be missed and admired, it also created moments of contemplation on 'development' and city life – clusters of high-rise apartments have sprung up to house the majority of the seven million Hong Kong population, fast diminishing the greenery.
A mountain range on a distant territory across the waters of the harbour showed another skyscraper city developed along its foot and shore. There appeared no stop the city overtaking Hong Kong land.
The swing rest in the serene and tranquil Club Lounge living room was a perfect place to see Kawloon, specially at night – when a mass of lights replaced a mass of structures seen with the light of day.
The Backyard offered the most outdoor tranquillity in the busy city with a waterfall and mango trees creating a canopy.

Chuan Spa
A Cordis' Chuan Spa treatment experienced following the traditional Chinese principles and techniques was truely indulging.
Chuan meaning flowing water in Chinese and water treated as the source of
life represents rebirth and rebalancing the whole being.
In the calm ambiance, amid sound of water flowing and relaxing, soulful music, the holistic treatments by friendly experts meant restoring mind, body and soul, and it did make a difference.
The exclusive oils and spa products created for Chuan Spa for the over 60 beauty and health treatments offered draw on the powers of the five elements – wood, earth, metal, fire and water. It was our personality and state of mind at the time, traced through a questionnaire on a tab, that determined our element and thereby the products for the treatment.
Cordis' outdoor heated swimming pool remarkably has underwater music.
Red Guards Going Forward!

Making Money!
Cordis' one attempt of not blending but synchronizing concepts quite unique for a hotel but enriching for a guest is the placement of the iconic Red Guards.
At Cordis' street level lobby entrance are the two sculptured Red Guards clad in uniform, one holding a little red book and the other a red mobile – childlike and having featureless faces, they are represented as shouting slogans with wide opened mouths.
They illustrate the blind worship of Maoism communist doctrines during China's 1966-1976 Cultural Revolution – thus awakens our insight into history and sociopolitics.
The sculptures are food for thought on economics through art being a sarcastic presentation by their Chinese contemporary sculptor, highlighting the culture shift the country has experienced over the years – how to the same extent, people blindly worship capitalism today.

Art-loving Cordis
The TIME magazine has described Cordis as an "art gallery masquerading as a hotel" – in art-loving Cordis' possession and displayed are over 1,500 pieces of contemporary Chinese art estimated to value over HK $ 35 million.
The complementary self guided art tours the hotel offers accompanied by petite box-set guide with image prints and explanations communicated the thought-provoking and inspiring concepts.
Cordis, as one of the first art hotels in Asia, showcased the pieces of art dedicating each area of the hotel to a theme suiting the likely mindset of its guests: Business Centre (Level 5) was themed cityscape, Club Lounge (Level 36), giving the best view of the city, 'urban oasis' and a piece of art depicts the young getting influenced by the Western world.
Chuan Spa (Level 41), themed nature, features a painting of a traditional Chinese flower –chrysanthemum – a flower long been associated with longevity and immortality in China and represents naturalism in Taoism.
At the stylish lobby is a sculpture presenting Tai Chi, Chinese martial art and another depicting a modern-world mentality – a man and his own shadow lost, influenced by the technological and materialistic world.