---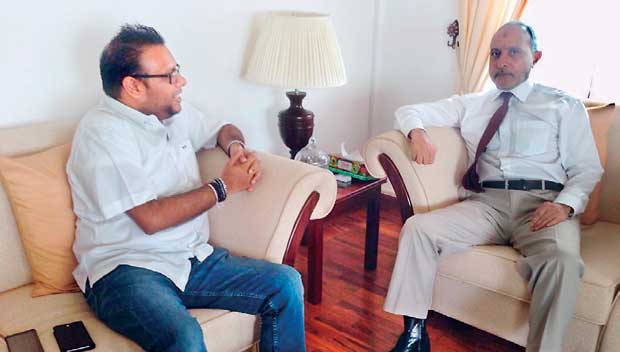 The Pakistani High Commissioner, Maj Gen (R) Syed Shakeel Hussain guarantees that all Sri Lankan tourists visiting places of worship in Pakistan will be provided with full security.
He made this statement at a meeting with the President of Ceylon Chamber of Commerce (CCC), Dr. Amila Kankanamge, held at the Pakistan embassy in Colombo, concerning the promotion of bilateral trade relations between the two nations.
"Bilateral relations between Sri Lanka and Pakistan have a long history. I believe that these relations should be strengthened and maintained for an even longer period of time. Pakistan has many religious places that are of importance to Sri Lankan Buddhists. These places are well protected. However the number of tourists who visit them is significantly low. We invite Sri Lankan citizens to come visit these places of worship. I guarantee that the Pakistan Government will provide all such tourists maximum security."
A number of religious sites that are significant to Lord Buddha's life and teachings are located in Pakistan. Unfortunately due to the unrest that prevailed within certain regions of the country during the past few years, there has been a decline in the number of tourists who visit these sacred locations. However Maj Gen Hussain believes that at present this situation has being resolved and a much more peaceful atmosphere has been created in Pakistan. The High Commissioner further stated, "A few years ago this same situation was prevalent in Sri Lanka, but today the entire country is peaceful. Pakistan is also experiencing a similar situation, which is why we invite Sri Lankans to visit these historical locations in Pakistan. This would also be a good opportunity to develop bilateral relations between the two nations."
During this meeting, the High Commissioner and the President of CCC discussed promoting relations between Sri Lanka and Pakistan across a number of other fields as well. Dr. Kankanamge believes that import and export activities between Pakistan and Sri Lanka can be further developed. He especially mentioned that when creating a regional marketplace for Sri Lankan products, Pakistan is one of the best locationsin orderto accomplish this. He further stated that CCC intends to coordinate all activities so as to aid Sri Lankan entrepreneurs enter the Pakistani marketplace. CCC has planned to launch this program through a series of special lectures to be held in a number of main cities around the island.