---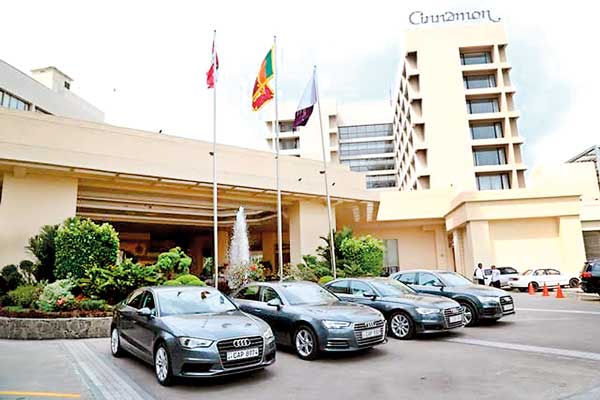 Premier five-star city hotels Cinnamon Grand and Cinnamon Lakeside now offer its esteemed clientele the privilege of travelling in style, with a new lifestyle offering introducing a brand new fleet of 2016 Audi vehicles as its chauffer fleet.

Over 35 Audis are now available at the hotels for guests to travel in luxury. The fleet includes Audi A3 sedan, Audi Q3 crossover SUV, the flagship Audi A6 sedan and 20 Audi A4 sedans of the 2016 launch model, the first of its kind in Sri Lanka. The vehicles promise superior comfort and contain state-of-the-art safety features which include GPS tracking.

The hotels, under its new brand identity which promotes 'inspired living' by cultivating and offering a vibrant lifestyle experience is looking at constantly at raising the bar to present patrons with a truly extraordinary stay – from the moment they step in to the country, up until their departure. Imbuing best in class product and service offerings, the new addition will surpass the expectations of even the most discerning traveller.

The new fleet is contracted from Transcend Drive by Drumin Transporters (Pvt) Ltd. The company's Founder/CEO Kishan De Silva noted that the proposal to incorporate Audis to Cinnamon's city hotels stemmed from the high regard the hotels hold in the industry. "For us, Cinnamon Grand and Cinnamon Lakeside are the unsurpassed premier hospitality properties in Sri Lanka. They are brands in its own sense with each property offering world-class services in a local environ. We wanted to offer the absolute premium product. This is our contribution," De Silva said.

The Audi A3 is known for award-winning design, industry-recognised safety and impressive performance. It's known as the luxury compact car that leaves a big impression, and is equipped with the Driver Assistance package, a 2016 IIHS Top Safety Pick+ (Insurance Institute for Highway Safety). Technology typically found on higher-end luxury sedanssuch as theMMI touch, the first-of-its-kind, a touch-sensitive scroll wheel allowing drivers to control an array of vehicle systems is also part of the A3. The Q3 exudes style that can make the city a little slicker. Seamlessly blending innovative materials and smart engineering, this is a crossover SUV that effortlessly adapts to practically any environment. A BOSE surround sound system provides an impressive 465 watts and14-speaker premium audio system.

The 2016 A6 was named a 2016 IIHS Top Safety Pick+. Combined with impressive performance and cutting-edge technology, the A6 has the full LED headlights and signature Singleframe grille and the latest driver assistance systems and seamless personal device integration.