---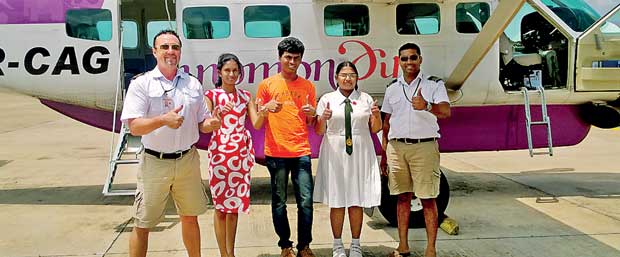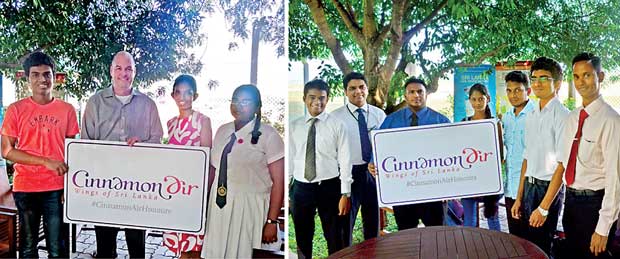 Cinnamon Air, Sri Lanka's premier domestic airline, launched 'Cinnamon Air Honours' as part of its corporate social responsibility (CSR) initiatives in which a free scenic flight is offered to outstanding performers in a given field. Cinnamon Air offered a scenic flight to students who ranked first in the island in each discipline at the 2015 GCE Advanced Level examination.

The flight was offered to K.P.G Thepuli Umesha (Bio Science), Dasun Oshadha Jayasinghe (Mathematics), F.M. Akeel Mohammed (Commerce), K.A. Jeewa Nayanamalee (Arts), Shanaka Anuraadha Samarakoon (Engineering Technology) and Wasana Navodhani Maarasinghe (Bio Systems Technology) where they were flown to Sigiriya from Colombo Bandaranaike International Airport (BIA).

After the flight, the students expressed their delight at being given this opportunity to enjoy spectacular aerial views of Sigiriya and other parts of Sri Lanka on their flight path.

Speaking at the launch of Cinnamon Air Honours, Cinnamon Air CEO Sean Dwight expressed, "The aim of Cinnamon Air Honours is not only to reward these highflyers with this experience, but we understand that this experience will encourage these young individuals to appreciate the rich cultural and natural heritage of our country and will inspire them to be ambassadors for Sri Lanka, encouraging them to give back to their communities. We recognise that by providing such experiences and opportunities, we assist them to aim even higher and perform better, resulting in increased quality of human capital in this nation. This also resonates with the overall vision of the group's CSR initiatives of 'Empowering the nation for tomorrow'."

Cinnamon Air, owned and operated by Saffron Aviation (Pvt.) Limited and a codeshare partner with SriLankan Airlines, is a joint venture between Sri Lanka's largest listed conglomerate, John Keells Holdings PLC, MMBL Leisure Holdings (part of the Mercantile Merchant Bank Group) and Phoenix Ventures (parent of the Brandix group, Sri Lanka's largest garment manufacturer). The airline operates a fleet of two Cessna 208 amphibian aircraft and one Cessna 208B Grand Caravan aircraft, with scheduled services to key inland points in Sri Lanka. Cinnamon Air also offers charter services to and between all airports and water aerodromes in Sri Lanka. The airline is based out of Katunayake where it operates a dedicated domestic terminal (within the precincts of the BIA) and also has its own purpose-built hangar and maintenance facilities.