---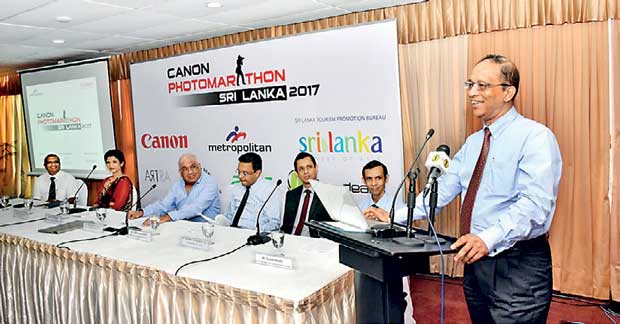 Metropolitan Photo Hub Managing Director Taslim Rahaman addresses the media while SLTPB Chairman Udaya Nanayakkara looks on Pic by Nisal Baduge
By Supun Dias
Sri Lanka's largest photography event, PhotoMarathon 2017, organised by Metropolitan Photo Hub on behalf of Canon and endorsed by the Sri Lanka Tourism Promotions Bureau (SLTPB), will be held this Saturday with the participation of over 400 photographers and tourists.

The SLTPB said at a media briefing held at the Tourism Ministry that it is a landmark event for the photography industry in the country and one of the key objectives would be promoting Sri Lanka as one of the top tourist destinations.

"It is a very timely event and we are happy to be a strategic partner of this unique event as it will be a good opportunity to promote more and more tourists to visit Sri Lanka and spread a very important message about the opportunities and world-class hospitality they would receive in Sri Lanka," said SLTPB Chairman Udaya Nanayakkara.

Canon PhotoMarathon is expected to top a participation of over 400 photographers and more than 800 anticipated photo submissions on the day.

"This is an open event for anyone who wants to participate. We have two categories. One is the student category and the other is the adult open category. The only criterion to participate is prior registration and a camera. The contest will have two parts, where the contestants will have the opportunity to take photographs and submit them under two themes selected on the day. The grand prize of the PhotoMarathon is a fully-paid photography learning trip to Japan, together with a Canon EQS," said Metropolitan Photo Hub (Pvt.) Ltd Managing Director Taslim Rahaman.

Further, all participants have the opportunity to travel to their scenic locations via the iconic Ebert Silva double-decker buses dedicated to carry tourists around the city, which will be available to the participants on the day of the PhotoMarathon.

A team of three independent judges will be selecting the winning photographer. The photography enthusiasts can purchase their tickets also online through the official online partner, www.mydeal.lk.
The registration fees of the participants will be donated to the Sri Lanka Council of the Blind to develop educational requirements of visually impaired students.

Similar events have been organised in Singapore, Indonesia and Malaysia in previous years but this is the second time the event is being hosted by Sri Lanka.