---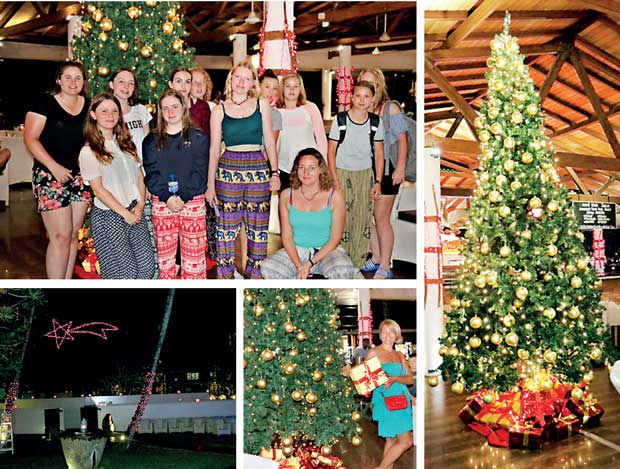 Calamander Unawatuna Beach is celebrating Christmas with an array of dining, shopping and entertaining events for the week of the festive season from December 23rd to 31st.

Calamander Unawatuna Beach organised a Christmas market and invited all the local crafts sellers, shop owners and food and beverage sellers to enjoy the benefits of displaying and selling their products to a wide range of local and foreign tourists who flock to Unawatuna over Christmas.
Having Commenced on December 23rd, the Christmas Market at Calamander Unawatuna Beach ushered in the spirit of Christmas with an event that included local residents of Unawatuna, a community of fisherman and shop owners, restaurants, bars, hotels, diving and pleasure boating, who depend on tourism for their livelihood. The Christmas market showcased an array of handicrafts, food and beverages to delight the eye and offered a fabulous alternative to the usual commercial shopping experience.

The festivities started with the evening of December 22nd from 7:00p.m. to 10:00p.m. with a wonderful display of Sri Lankan Cuisine for all those who crave for some rice, spice and everything nice. To enhance the mood of traditional Sri Lankan hospitality a live Paduru Party was held. The following evening December 23rd, from 6:30p.m. a carol concert by the acclaimed Peradeniya Singers, included traditional carols from around the world and resonated around the stunning beach side restaurant, which has one of the longest wooden structure roofs in Sri Lanka. The same evening Calamander Unawatuna Beach offered an Italian evening with a variety of classic Italian dishes, including its famous wok pasta.

On Christmas Eve, December 24th, a very special Christmas dinner was offered to guests and to outside visitors, from 8:00p.m. to 11:00p.m.. The first highlight of the evening was Santa Claus arriving on Unawatuna Beach at 7:30p.m.. This was a magical evening and for children in particular it was memorable as they got to meet the real Santa Claus and had the opportunity to dance along the beach with him whilst he showered the kids with candy, and the entertainment continued with a comedy show from 8:00p.m. to 9:00p.m., followed by DJ Maxim and the live band Sarith and Surith, playing traditional pop and Baila classics for guests to dance the night away.

Christmas Day included a special Christmas lunch buffet and a seafood night for dinner guests. A cultural show and live music enlivened the evening. December 26th, Boxing Day, was a chance for guests to indulge in some fabulous Chinese style foods, and up to 11:00p.m., solo singer and instrumentalist, Jagath Jayawardene entertained with renditions of popular songs.

December 27th greeted guests with another chance to enjoy delicious Italian fare accompanied throughout the evening with the melodious sounds of a solo saxophonist, up to 11:00p.m.. On December 28th following the Christmas Market, lunch and Happy Hour offerings, everyone at Calamander Unawatuna Beach was able to opt for an Indian themed dinner with entertainment from a Calypso Band.

On December 29th at 7:00p.m., another chance to savour our special Sri Lankan cuisine and listen to the traditional instruments and singing of a Paduru Party. On December 30th, diners can look forward to an oriental inspired buffet whilst enjoying live pop and Baila music from Sarith and Surith, and it is worth noting that every evening, on the beach from 7:00p.m., (weather permitting) or in the restaurant, Calamander's famous seafood market offers the daily catch and fish and seafood are cooked to order on a cinnamon charcoal grill.

In anticipation of new beginnings, Calamander Unawatuna Beach stages its famous New Year Party, starting at 8:00p.m. with entertainment from 6:00p.m. onwards. This 31st night is unforgettable, not only for its setting and the wonderful spread of food from all over the world, but for the service and dedication of the staff who always ensure that this night is etched in the memory. This special night should always be in a special place, so if one wants to eat, drink and be merry, New Year's Eve party at Calamander Unawatuna Beach should not be missed.

So get along with family and friends and visit Calamander Unawatuna Beach for an unforgettable night of festivities and fun. Be glamorous, dress in the finest, indulge in wonderful food, wines and spirits. Dance to live music, participate in a raffle draw with a chance to win some great prizes, enjoy the spectacle of the light hearted and fun, 'Queen of the Night' competition and test your moves in a Baila Dancing competition. The evening comes to its culmination with a countdown to midnight, followed by a spectacular display of fireworks. Celebrate the year end by saying goodbye to 2017 and step into 2018 in style.