---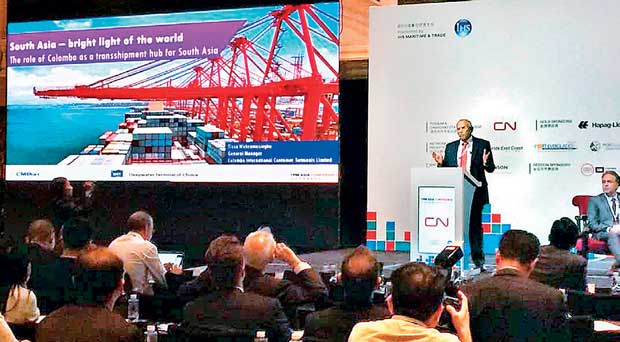 The Port of Colombo received invaluable global visibility recently when a representative of Colombo International Container Terminals (CICT) was accorded the rare honour of making a presentation at the 2016 TPM Asia Conference in Shenzhen, China.
Tissa Wickramasinghe, CICT's General Manager – Commercial & Marketing spoke on the topic 'Ports in the crosshairs – Is Asia's port landscape agile enough to support changing trade patterns?' at this high-powered forum attended by 141 companies representing terminal operators, port authorities, shipping lines, logistics firms, research agencies, academic institutes, freight forwarders, manufacturers and equipment suppliers.
Wickramasinghe was the only Sri Lankan and only South Asian speaker among 36 industry specialist speakers from all around the world who addressed the TPM Asia Conference.
"Besides contributing to the discussion of a topic that is particularly relevant to the Port of Colombo, our presence in an expert capacity at a prestigious international forum of this stature gives Sri Lanka and the Port of Colombo significant exposure to an extremely important audience," CICT CEO Ray Ren said. "CICT is proud to have represented the Port of Colombo at this and other international forums of the industry."
This year's TPM Asia Conference organized by IHS Inc. covered areas such as finding new value in the container supply chain through stability, efficiency and innovation, and discussed numerous important topics such as the economic environment for container shipping as the situation headed into the slack season. The conference was described as the must-attend event for container shipping and logistics professionals who need to understand the issues facing the Asia-Europe, trans-Pacific and intra-Asia container markets.
CICT, which commenced operations in July 2013, manages the Colombo South Terminal of the Port of Colombo, the first and currently the only deep water terminal in South Asia equipped with facilities to handle the largest
vessels afloat.
The commencement of CICT's operations is widely credited as the factor in the Port of Colombo achieving double digit growth in 2014 after a lapse of over ten years.In just three years of operation, CICT has brought some of the largest vessels plying the Asia-Europe routes to Colombo. Of these, MSC Maya (19,224 TEU), MV Mogens Maersk (18,300 TEU), MSC New York (16,652 TEU), CMA CGM Marco Polo (16,020 TEU), Edith Maersk and EMC Thalassa Hellas (each 14,000 plus TEUs) and their sister vessels are now regular callers at CICT.