---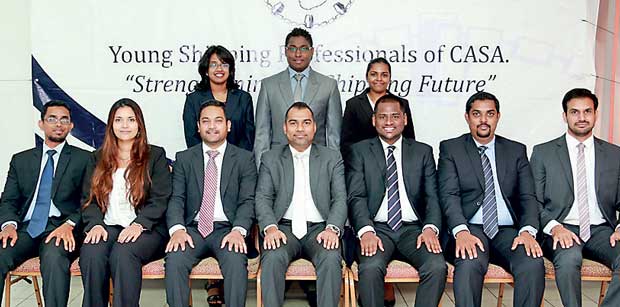 Standing from left: Poornima Rajapakse – Hayleys, Samitha Perera – Hemas, Navindhi Perera – Aitken Spence
Seated from Left: Treasurer Hasitha Dissanayake – CMA CGM, Assistant Secretary Shehara Franciscus – Ceyline Shipping, Secretary Ranga Sooriyarchchi – Maersk Line, Chairman Navin Perera – McLarens, Vice Chairman Jehan Rodrigo – Prudential Shipping, Assistant Treasurer Duminda Silva and Immediate Past Chairman Mevan Peiris – Ceyline Agencies
The Ceylon Association of Ships' Agents (CASA) is the industry body representing the shipping agency companies in Sri Lanka and has been the voice of the shipping industry since its inception in 1966. CASA has a total membership of 134 shipping agency companies. CASA contributes regularly towards the formulation of a national maritime policy in Sri Lanka and draws on the experience and expertise of its members who are shipping professionals.

The Young Shipping Professionals (YSP) of CASA is an initiative of CASA to develop the next generation of the shipping industry personnel for a sustainable future and to collectively address issues facing the shipping industry and to equip the young generation with the skills to develop and grow the shipping industry in Sri Lanka.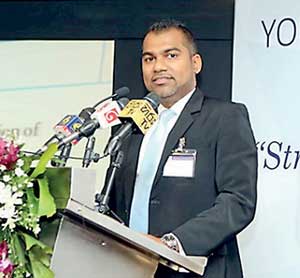 The annual YSP Membership Night 2016 was held recently at Galadari Hotel to showcase the current achievements, future development plans and strategic direction for the YSP for the next two years along with a fellowship for its members. The chief guest being SLPA Chairman Dhammika Ranatunga and the event was graced by Foreign Affairs Deputy Minister Dr. Harsha De Silva as the guest of honour.

The membership profile of the Young Shipping Professionals of CASA currently includes 165 individuals employed in a shipping agency company who are below 35 years of age. They represent the cream of the shipping community as the shipping agency companies tend to invest in their senior management and the promising performers of their respective companies to this forum.

Amongst the membership we hosted distinguished visitors from key stakeholders including the Ports and Shipping Ministry, Sri Lanka Ports Authority, Sri Lanka Navy and chairmen, CEOs and managing directors of Sri Lanka's blue-chip conglomerates were present at this event.

The young professionals of the local shipping industry have announced plans to launch an initiative to develop the future human resource base of the shipping and logistics sector.

Speaking at the event elect Young Shipping Professionals Chairman Navin Perera mentioned, "It's vital to have a strong ethical foundation and hope to instil that in our members. Safety, ethics and environment are three of YSP's top concerns. He furthermore added, "YSP also intends to promote networking opportunities between its members by holding a number of gatherings so that they could interact in a more social setting and share their experiences/business ideas/possible synergies for better productivity and efficiency. The idea is to promote cooperation instead of competition, a rowboat needs all its members to row in the same direction and so does the shipping industry as we believe."
"Our forum will create a platform for young people to learn new things and also to network and exchange ideas and experiences, this will be achieved through interactive sessions, educational forums and visits and lectures from foreign and local experts in the field," said Perera.