---
Beautifully located amidst the picturesque coastline of the east of Sri Lanka, Amaranthé Bay is a new luxurious boutique hotel with a difference.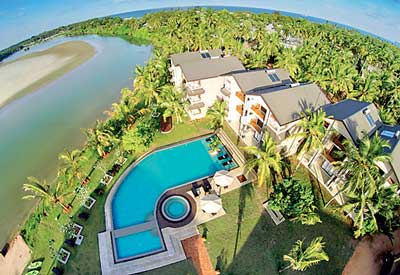 Nestled in the heart of Uppuveli, Trincomalee, Amaranthé Bay Resort and Spa recently welcomed the 'Google Business View Team' from Avant Premiere to showcase the various amenities and features of this charming resort and spa directly on the Google search engine.

Google Business View, also known as Google See Inside, gives prospective clients an idea, in the form a 360-degree virtual tour, an eye-opening experience of what it feels like to be inside the hotel. A popular, innovative marketing tool specifically designed for businesses and used by hotels and resorts worldwide, Google Business View is now live in Sri Lanka with Avant Premiere, providing holidaymakers a chance to 'see inside' the hotel within the confines of their homes.

Amaranthé Bay Resort and Spa is truly a feast for the discerning eyes, located a mere 7 kilometres north of Trincomalee city and offering easy access to the city's must see attractions. There's never a dull moment at Amaranthé Bay with its personalized customer service, true Sri Lankan hospitality, attention grabbing and mesmerizing sunsets one can only dream about.

The hotel offers guests fantastic water sports facilities such as snorkelling, canoeing, kayaking and expeditions to the nearby mangrove forest. The centre of attraction is the relaxing pool bar overlooking the sparkling blue swimming pool, with colourful comfortable beanbags to unwind after an exhilarating day in the city.

Fully stocked with the best of beverages and eager bartenders, who are ever ready to whip up virtually any cocktail guests desire, the pool bar adds to the colour of this enchanting boutique hotel. Featuring both international and local cuisine, there really is something to suit every palette.

The resort is furnished with a touch of modern contemporary class teak and mahogany furniture, as showcased in the virtual tour on the Google Search Engine, with large, climatic controlled spacious rooms, an elegantly decorated 'Wild Bar' and a large welcoming lobby.

The initial first impression of a hotel is a lasting one and Amaranthé Bay combines both extravagance and comfort and this is portrayed vividly on Google Business View.