---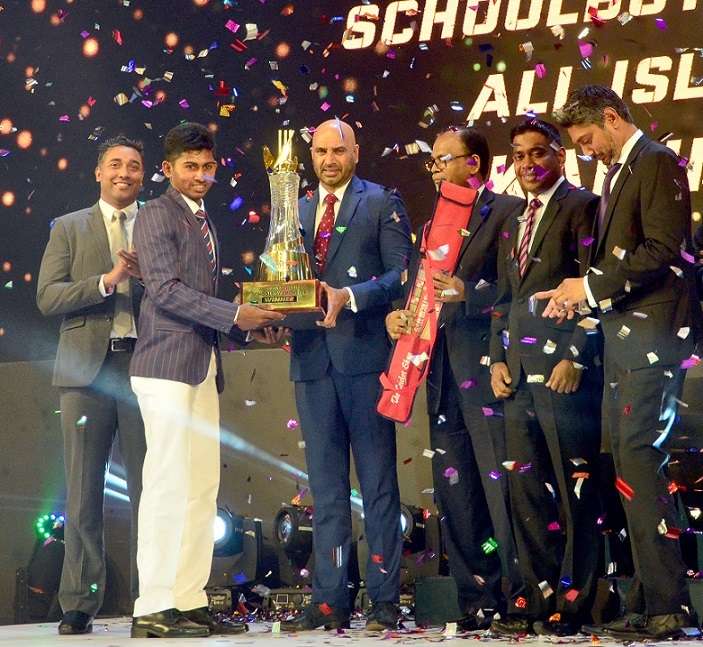 Sri Lanka U-19 and Richmond College skipper Kamindu Mendis was the cynosure of all eyes winning three awards including the "Dialog 4G – Sunday Times Schoolboy Cricketer of the Year 2018" in the All-Island category at the gala awards ceremony held at the BMICH on Wednesday (20) evening.
Mendis was also named thebest batsman in schools cricket during the 2017/18 best fielder for his 18 catches in the five games he represented his school.
The division 1 schools fell under the All-Island category, while the Emerging Category consisted of the division 2 schools. St. Thomas' College was named the team of the year for their outstanding performance during the season.
ALL-ISLAND AWARDS:
Schoolboy Cricketer of the Year (winner) – Kamindu Mendis (Richmond)
Schoolboy Cricketer of the Year (runner-up) – Savindu Peiris (Prince of Wales)
Best Batsman (winner) – Kamindu Mendis (Richmond)
Best Batsman (runner-up) – Revan Kelly (St. Joseph's)
Best Bowler (winner) – Hareen Buddhila (St. Aloysius)
Best Bowler (runner-up) – Savindu Peiris (Prince of Wales)
Best Fielder (winner) – Kamindu Mendis (Richmond)
Best Fielder (runner-up) – Sachintha Ravindu (St. Joseph's)
Best Wicket-keeper (winner) – Sithara Hapuhinna (S. Thomas')
Best Wicket-keeper (runner-up) –Teron Baskaran (DS Senanayake)
Best All-rounder (winner) –Savindu Peiris (Prince of Wales)
Best All-rounder (runner-up) – Dellon Peiris (S. Thomas')
Best Captain – Dellon Peiris (S. Thomas')
Best Team (winners) – S. Thomas' College, Mt. Lavinia
Best Team (joint runner-up) – Mahinda College & Richmond College
DIALOG 4G SPECIAL AWARDS:
Fastest to 1000 runs – Revan Kelly (St. Joseph's)
Team with most no. of outright wins – Richmond College
Fastest Limited Over Half Century – Revan Kelly (St. Joseph's)
Fastest Limited Over Century – Hasitha Boyagoda (Trinity)
EMERGING AWARDS:
Schoolboy Cricketer of the Year (winner) – Raveen Yasas (Devapathiraja)
Schoolboy Cricketer of the Year (runner-up) – Randeera Ranasinghe (St. Anne's, Kurunegala)
Best Batsman (winner) – Raveen Yasas (Devapathiraja)
Best Batsman (runner-up) – Randeera Ranasinghe (St. Anne's, Kurunegala)
Best Bowler (winner) – Rohan Sanjaya (Tissa, Kalutara)
Best Bowler (runner-up) – Chathura Jayanath ( Debarawewa, Tissamaharama)
Best Fielder (winner) – Tamashana Abeykoon (St. Anthony's, Kandy)
Best Fielder (runner-up) – Ishara Maduwantha (Karandeniya Central)
Best Wicket-keeper (winner) – Umesh Kurera (St. Peter's, Negombo)
Best Wicket-keeper (runner-up) – Sohan de Livera (Devananda, Ambalangoda)
Best All-rounder (winner) – Pathum Madusanka (Devapathiraja)
Best All-rounder (runner-up) – Randeera Ranasinghe (St. Anne's, Kurunegala)
Most Popular Awards:
All-island:
Most Popular Schoolboy Cricketer Award (winner) – Vihan Gunasekara (DS Senanayake)
Most Popular Schoolboy Cricketer Award (1st runner-up) – Dellon Peiris (St. Thomas')
Most Popular Schoolboy Cricketer Award (2nd runner-up) – Sachin Silva (St. Peter's, Bambalapitiya)
Emerging:
Most Popular Schoolboy Cricketer Award (winner) – Denuwan Perera (Carey)
Most Popular Schoolboy Cricketer Award (1st runner-up) – Kenula Gunaratne (St. Aloysius, Ratnapura)
Most Popular Schoolboy Cricketer Award (2nd runner-up) – Kavindu Shilpage (Sri Piyarathana, Padukka)
Girls:
Winner – Harshitha Samarawickrama (Anula Vidyalaya)
Runner-up – Pabasara Ranabahu (Rathnavali, Gampaha)
EMERGING TEAM AWARDS:
Best Team (winner) – Tissa Central, Kalutara
Best Team (runner-up) –St. Anthony's, Kandy
Central Province (winner) – Vidyartha College
North Western Province (winner) – St. Anne's College, Kurunegala
Western Province (winner) – Sri Sumangala College, Panadura
Uva Province (winner) – Bandarawela Central College
Southern Province (winner) – Devananda College, Ambalangoda
Northern Province (winner) – St. John's College, Jaffna
Sabaragamuwa Province (winner) – Dudley Senanayake Central, Tholangamuwa
Girls Best Team (winner) – Devapathiraja College, Rathgama
Girls Best Team (runner-up) – Anula Vidyalaya, Nugegoda