---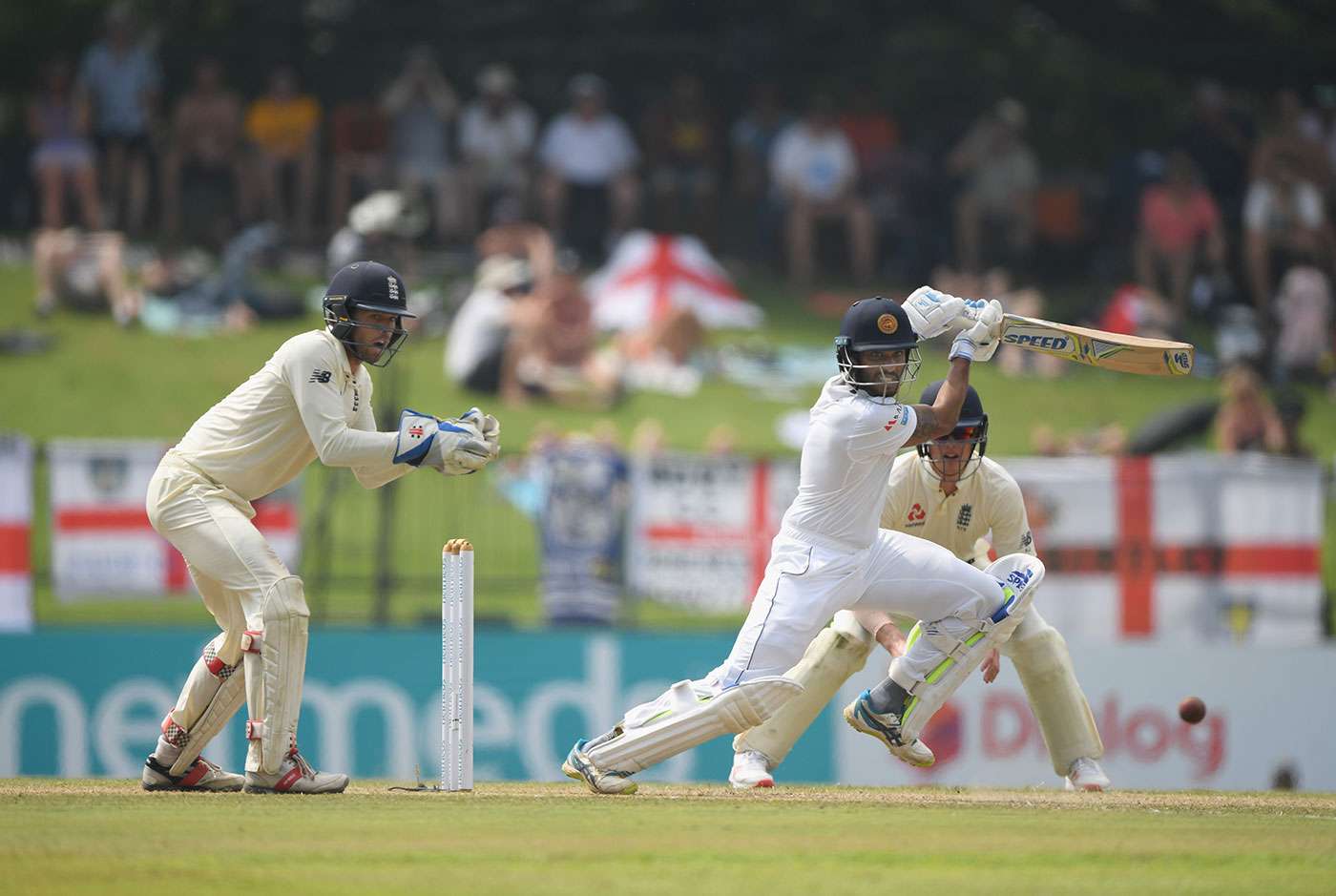 PALLEKELE, Sri Lanka (Reuters) - Roshen Silva struck a combative fifty and expertly guided Sri Lanka's lower order to help the hosts gain a first-innings lead of 46 against England on the second day of the second test on Thursday.
The hosts were handed a five-run penalty in a bizarre incident during the final session, after the match officials ruled Sri Lanka's batsmen to have breached the law governing deliberate short runs. It took England's total to 290.
In reply, Sri Lanka were all out for 336 shortly before the close of play with Silva's 85 being the highlight of their innings.
England's Jack Leach and Rory Burns were both unbeaten on nought, safely negotiating the one over they had to face before stumps were drawn.
Sri Lanka, trailing 1-0 in the three-test series after last week's loss in Galle, added 171 for their last four wickets to take a crucial lead, which had looked unlikely at one stage.
After resuming on 26-1, they lost nightwatchman Malinda Pushpakumara in the third over to a poor shot.
That dismissal brought opener Dimuth Karunaratne and Dhananjaya de Silva together, and the duo built a stand of 96 through some smart batting with England's bowlers looking bereft of ideas as the partnership grew.
All-rounder Ben Stokes then stole the show with two brilliant efforts in the field to help England break through Sri Lanka's resilience with a brace of wickets shortly before the lunch break.
Stokes sprinted from gully when de Silva prodded to the off side, picking the ball up with one hand and completing a run out with one stump to aim at to dismiss Karunaratne for 63.
Stokes was soon in the thick of things once more when he took a sharp one-handed catch at slip to dismiss Kusal Mendis for one off left-arm spinner Jack Leach.
Leg-spinner Adil Rashid reaped rewards for his probing line and length when he induced an edge from de Silva, who made 59, with wicketkeeper Ben Foakes completing a smart catch.
Former captain Angelo Mathews fell in a similar fashion for 20 to Rashid with Foakes holding onto the catch at the second attempt.
Sri Lanka were tottering at 165-6 at that stage and needed a contribution from their lower order to stop England from gaining a sizeable advantage.
Niroshan Dickwella (26) and Silva proved up to the task with a 46-run stand for the seventh wicket before England captain Joe Root made the breakthrough by dismissing the former leg before.
Silva continued to frustrate England's bowlers in the final session, adding 56 for the ninth wicket with Akila Dananjaya (31) and another 28 with stand-in skipper Suranga Lakmal, who remained on 15 not out.
The 29-year-old Silva was, however, guilty of not grounding his bat at the non-striker's end while going for a second run, which resulted in the penalty that could prove important if the match turns out to be a tight one.
He was the final wicket to fall for Sri Lanka, handing Rashid his third wicket. Leach also picked up three wickets for the touring side, whose seamers failed to take a single wicket in the innings - the first time for England since 1974.
England 1st innings
Rory Burns c Dhananjaya de Silva b Akila Dananjaya 43
Keaton Jennings c Niroshan Dickwella b Suranga Lakmal 1
Ben Stokes lbw Dilruwan Perera 19
Joe Root b Malinda Pushpakumara 14
Jos Buttler c Dimuth Karunaratne b Malinda Pushpakumara 63
Moeen Ali lbw Malinda Pushpakumara 10
Ben Foakes c Dhananjaya de Silva b Dilruwan Perera 19
Sam Curran c Dimuth Karunaratne b Dilruwan Perera 64
Adil Rashid lbw Dilruwan Perera 31
Jack Leach b Akila Dananjaya 7
James Anderson Not Out 7
Extras 4b 3lb 0nb 5pen 0w 12
Total (75.4 overs) 290 all out
Fall of Wickets : 1-7 Jennings, 2-44 Stokes, 3-65 Root, 4-89 Burns, 5-134 Ali, 6-165 Foakes, 7-171 Buttler, 8-216 Rashid, 9-225 Leach, 10-285 Curran
Bowling Ov Md Rn Wk Econ Ex
Suranga Lakmal 12 1 44 1 3.67
Dilruwan Perera 24.4 5 61 4 2.47
Malinda Pushpakumara 23 4 89 3 3.87
Dhananjaya de Silva 2 0 4 0 2.00
Akila Dananjaya 14 1 80 2 5.71
Sri Lanka 1st innings
Dimuth Karunaratne Run Out Ben Stokes 63
Kaushal Silva b Jack Leach 6
Malinda Pushpakumara c Rory Burns b Moeen Ali 4
Dhananjaya de Silva c Ben Foakes b Adil Rashid 59
Kusal Mendis c Ben Stokes b Jack Leach 1
Angelo Mathews c Ben Foakes b Adil Rashid 20
Roshen Silva c Moeen Ali b Adil Rashid 85
Niroshan Dickwella lbw Joe Root 25
Dilruwan Perera lbw Jack Leach 15
Akila Dananjaya lbw Moeen Ali 31
Suranga Lakmal Not Out 15
Extras 6b 6lb 0nb 0pen 0w 12
Total (103.0 overs) 336 all out
Fall of Wickets : 1-22 Silva, 2-31 Pushpakumara, 3-127 Karunaratne, 4-136 Mendis, 5-146 de Silva, 6-165 Mathews, 7-211 Dickwella, 8-252 Perera, 9-308 Perera, 10-336 Silva
Bowling Ov Md Rn Wk Econ Ex
James Anderson 14 2 40 0 2.86
Sam Curran 4 0 19 0 4.75
Jack Leach 29 5 70 3 2.41
Moeen Ali 25 1 85 2 3.40
Adil Rashid 22 2 75 3 3.41
Joe Root 8 0 26 1 3.25
Ben Stokes 1 0 9 0 9.00
England 2nd innings
Jack Leach Not Out 0
Extras 0b 0lb 0nb 0pen 0w 0
Total (1.0 overs) 0-0
Bowling Ov Md Rn Wk Econ Ex
Dilruwan Perera 1 1 0 0 0.00