---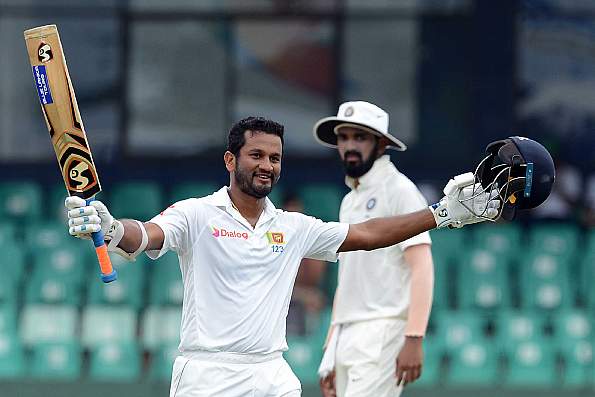 Sri Lanka has had mix fortunes in the past few months. While the Test team had a great outing against Pakistan in the UAE, the ODI and T20I series were nothing less than disastrous. The Lankans won the Tests 2-0, while they lost the ODIs 5-0, and lost T20Is 3-0.
Now the Islanders face their next big challenge against the Indians, this month. As has been the norm for all the visiting teams to India, the Lankans will be looking to tackle the Indian spin duo of Ravichandran Ashwin and Ravindra Jadeja, just to give themselves a chance of a win.
It was these two spinners who played a crucial role in beating Sri Lanka in a bilateral series this August.
"Generally, the off-spinner poses the biggest threat for a left-hander, but on wickets that turn, the most difficult thing is to play the ball that comes in to you. So Jadeja will the bigger challenge for me. I have scoring options against him, but Ashwin is a smart bowler. He rarely bowls a loose delivery," Karunaratne was quoted saying.
"You have to be smarter against Ashwin. There's no point of adopting a counter-attack approach against Ashwin. If you do that, he will get you. You have to be solid against him. You have to keep your ego away when you are playing him. You have to respect him. Ashwin always wants to get wickets. When you deny him the wickets, then he will go to other options. You have to cash in when he loses patience and when he comes on for his third spell or so," Karunaratne elaborated.
Karunaratne has had a good run in tests this year, and has amassed 960 runs this year, and is third in the list of highest run-getters this year, and will be looking to continue his good run in India too.
"We have a three-day break before we leave to India. After the Test series against Pakistan, during our training, we tried to focus a lot on playing spin. We trained on under-prepared wickets. Due to the rain, our sessions were limited and we were forced indoors. You can't prepare for conditions when you play indoors. But we have eight days in India before the first Test and we need to make most of it," Karunaratne noted.
"I have played little cricket in India. The last time I played there was in 2005 with the Under-19 team. No idea what to expect there so I am watching some videos."
"I am watching how Alastair Cook batted in India. I am also taking a look at footage of how other left-handed openers like Matt Renshaw and Tom Latham went about things in India and hopefully that will come in handy. The SG ball that will be used will be tougher than the Duke ball. It will be a tough task to adjust to the bounce and seam. Your character gets tested in places like Australia and India and I am looking forward for that challenge."