---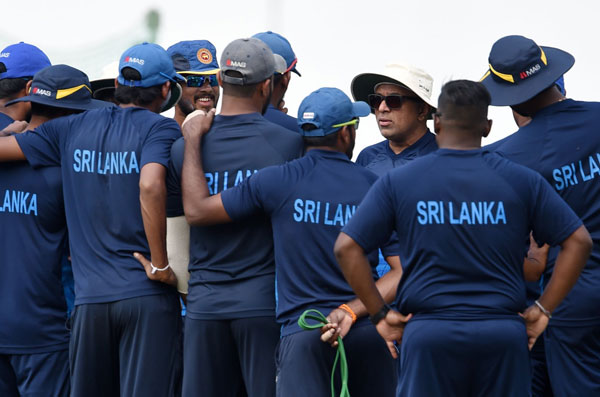 Sri Lanka's new head coach Chandika Hathurusingha said he will bring the expertise of former Sri Lankan players in the caliber of Kumar Sangakkara, Mahela Jayawardene and Muttiah Muralitharan to help the national team.
Sangakkara and Muralidaran were behind Hathurusingha's entry into the national fold in 2009. He was Sri Lanka A team coach until then but a request by Sangakkara and Muralidaran saw, SLC promoting him to the national team as 'Shadow Coach'.
"I will get Kumar's expertise," Hathurusingha said. I will invite him to help us. If I don't get him in, I am doing a disservice. Not only him, I'll also get Mahela Jayawardene and Muttiah Muralitharan to work with me on different occasions. Will see whether they have time."
Speaking to media after team's first training session ahead of team's five-week tour to Bangladesh on Thursday admitted that his charges lacked the intensity needed at the highest level of the game. A squad of 23-players attended a training session last afternoon ahead of their tour of Bangladesh.
"Quite a few things we are not doing right at the moment and that's why we are in this situation. But no doubt about the skill we have. There are so many cricketers that I can see that they can go onto become one of the top five players in the world. If they are not doing justice to their talent, which means that a lot of things are going wrong," he added.
Hathurusingha also said that he will ensure that strict discipline is maintained at all times. There had been allegations player misconduct in the past and Hathurusingha said it would not happen during his tenure.
"In future it is not going to happen. If someone wants to listen to music during training, he can pack his bags and go home. I can't talk on what happened in the past, I don't want to assume things. But I will get a first-hand feel of what is going on. I have told them that preparation is the key. If we prepare well, we are giving ourselves a good chance to do well," Hathurusingha added.
Former Bangladesh coach will also put lots of emphasis on training.
"I want to change the way they are approaching the training. That is somewhere we can make a big impact. To build their confidence, we need to change the environment; how we train and how we communicate. Those are the things that we need to work on quickly," he added.
His first challenge will be Bangladesh which he trained until recently. "It generates a lot of interest as I am going back to Bangladesh. We are not performing to our capabilities and Bangladesh are strong at home in the last two years.
"But we have to look at the larger picture. My challenge is to make most of the talent that this team has. My target is the next World Cup when it comes to white-ball cricket. In red-ball cricket, my challenge is the next series. We pick sides accordingly. We need to identify players for World Cup."
Sri Lanka leaves for Bangladesh on January 13. They will be involved in a tri-nation along with Bangladesh and Zimbabwe before the two-match Test and T20 series.